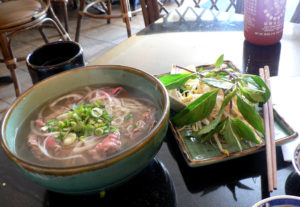 By Frances Fu
AsAmNews Intern

Last Tuesday, Bon Appétit released a video called "PSA: This Is How You Should be Eating Pho," featuring Tyler Akin, a non-Vietnamese chef and restaurant owner in Philadelphia.

Two days later, Bon Appétit had changed the headline to "We're in Love With This Pho" after considerable backlash from the Asian American community.

In order to help others understand why the video incited so much criticism from the Asian community, stand-up comedian Jenny Yang released a video parodying Bon Appetit's original:



In her interview with SCPR, she says:

"When I saw it, I just cringed…because all of the elements the way that it was entitled by Bon Appetit, the tone of his voice, the fact that he's probably a very well meaning appreciator of our culture…but I think what makes it tough is, food is so personal for Asian Americans and us immigrants. And in fact in a media landscape that doesn't usually represent Asian faces, food is one of the only places where we kind of have a voice. And for this guy to be having some kind of authoritative stance on how to eat Pho…ugh…it just triggered something."
AsAmNews is an all-volunteer effort of dedicated staff and interns. You can show your support by liking our Facebook page at  www.facebook.com/asamnews, following us on Twitter, sharing our stories, interning or joining our staff.