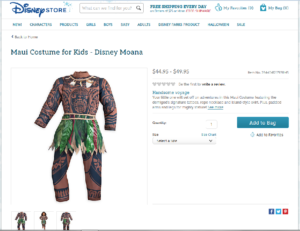 By Louis Chan
AsAmNews National Correspondent

The Merriam Webster dictionary defines a costume as the clothes worn by someone.
But the new costume depicting Maui, the Polynesian demigod portrayed by Dwayne "The Rock" Johnson in the Disney movie Moana, mimics not only Maui's clothes, but also his brown skin– tattoos and all.
Some have called that cultural appropriation. You might also call it black face-like.
Social media is buzzing about what many consider a mistep.
As a Poly I support our folk involved in #MOANA. But this? NO.Our Brown Skin/Ink's NOT a costume. @DisneyMoana pic.twitter.com/X0pacppAqV

— TheBlackSheep.com (@LivinOffTheGrid) September 18, 2016
Hey @DisneyAnimation — your Maui "costume" is #brownface + should be REMOVED now. @DisneyMoana please do better.
https://t.co/LiMREMACBe pic.twitter.com/UmszLoIux3

— 18millionrising (@18millionrising) September 19, 2016
this ??morning?? in ??dumb ??things. really, who (from Disney) thought a "brown skin" costume would be a Good Thing? https://t.co/dARZqhnwqF

— Kat Chow (@katchow) September 20, 2016
The controversy has been covered by such trade publications as Variety and national news organizations such as the Washington Post.
Moana will be the first Pacific Islander Disney princess and many from that community have been looking forward to it.
The merchandising, however, has many scratching their heads.
As excited as I am for #Moana, and as cool as Maui will be, other people's skins are not costumes. @DisneyAnimation https://t.co/p9RsWt18o0

— jess banks (@ProfBanks) September 18, 2016

AsAmNews is an all-volunteer effort of dedicated staff and interns. You can show your support by liking our Facebook page at  www.facebook.com/asamnews, following us on Twitter, sharing our stories, interning or joining our staff.