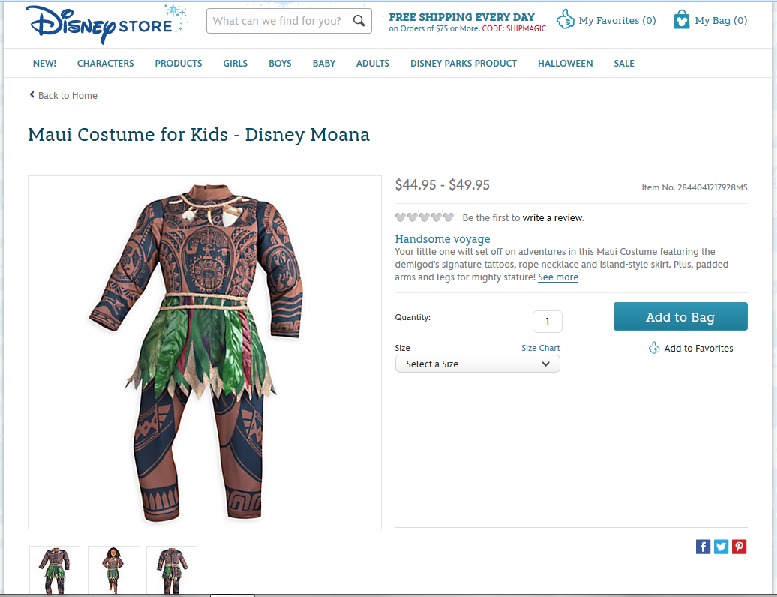 By Louis Chan
AsAmNews National Correspondent

A Disney Halloween costume derided as racist for the costume's brown skin is being pulled from store shelves.

The decision comes just days after a social media uproar over the costume caught the attention of mainstream national media.

The costume was part of Disney's extensive marketing campaign of its upcoming animated film Moana which is set for a Thanksgiving release.

Moana is Disney's first Polynesian princess and has been seen by many as aa breakthrough for diversity.

The decision is a costly one for Disney, but one intended to minimize the negative impact the costume has caused.

The costume in question is based on the character Maui which is voiced by Dwayne "The Rock" Johnson.

"The team behind Moana has taken great care to respect the cultures of the Pacific Islands that inspired the film, and we regret that the Maui costume has offended some," Disney said in a statement. "We sincerely apologize and are pulling the costume from our website and stores."

Some critics, including Native Hawaiian Chelsie Haunani Fairchild, remain skeptical. She voiced her discontent in a video blog on You Tube.

"I don't think they are truly sorry, or they are truly have empathy of how we feel. I just think its for profit. Any negative publicity, any negative about a film you're about to release, that they've probably spent millions of dollars developing, you want to try to avoid that."



Skepticism aside, Disney's decision should not be taken lightly. Those offended, including myself, of seeing White kids parading around in Brown skin on Halloween, should be pleased with the decision.

Disney has the marketing muscle to overcome negative publicity. Other large corporations have kept their offensive costumes on the shelves following similar controversies. Whatever you think of their motivation, Disney made the right decision for the company and the general public.

AsAmNews is an all-volunteer effort of dedicated staff and interns. You can show your support by liking our Facebook page at  www.facebook.com/asamnews, following us on Twitter, sharing our stories, interning or joining our staff.