I wonder if Purvi Patel was watching the debate between the vice presidential candidates Virginia Sen. Tim Kaine and Indiana Gov. Mike Pence.

It's too bad that Patel wasn't brought up by moderator Elaine Quijano, the first Asian American to moderate a major debate at the presidential ticket level.

Even if she did, the candidates might not even heard her because of their tendency not to listen to her. The way she was treated by the two White men demonstrated a lack of respect for the Asian American woman. Both men interrupted Quijano 26 times and often speaking over and ignoring her attempts to rein them in.

Women know what Quijano was going through. Oftentimes, in business meetings usually dominated by men, women are ignored or not heard or not given a chance to speak.

Unlike the first presidential debate between Hillary Clinton and Donald Trump, women became a topic of discussion – even if it was inadvertent. But it took a woman to lead the two men to start talking about women and issues affecting women.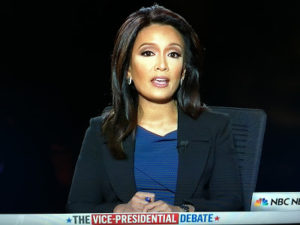 Although Kaine has been criticized by some for being too aggressive and talking over Pence's response, Kaine's comments had more substance. If you can read the debate without the visuals of an animated Kaine attacking Pence, you can see he gave some really meaty responses. Towards the end of the debate, when the subject turned towards abortion, Kaine asked his Republican opponent, "Governor, why can't you trust women to make this choice for themselves?
"Why don't you trust women? Why doesn't Donald Trump trust women to make this choice for themselves?" asked Kaine.
Finally, Kaine, a practicing Catholic, gave one of the best responses on how he can reconcile his religious beliefs with a woman's right to choose.
"That's what we ought to be doing in public life: Living our lives of faith, our motivation, with enthusiasm and excitement, convincing each other, dialoguing with each other on important moral issues of the day," said Kaine. "But on fundamental issues of morality, we should let women make their own decisions."
"Donald Trump and I would never support legislation against women who make the heartbreaking choice to end a pregnancy," said Pence in the closing moments of the debate.
Yet, that's exactly what he did as Indiana's governor. Under his watch, Indiana became the first state in the nation to convict of woman of feticide for self-inducing an abortion.
In July 2013, Purvi Patel sought help at St. Joseph Regional Medical Center in Mishawaka, Indiana for heavy vaginal bleeding. At first, Patel did not tell medical staff that she had been pregnant, but she later informed doctors that she had had a miscarriage at home. There is no dispute that Patel ordered drugs online to induce an abortion, but it was disputed whether Patel actually delivered a live baby. Also disputed was whether Patel knew the gestational age of the fetus. Evidence at trial showed that Patel believed she was only around 12 weeks pregnant. In 2015, a jury convicted her of feticide and neglect of a dependent.
But the
Court of Appeals
disagreed, ruling that the intention of the feticide law was to prosecute third party actors who attack pregnant women, not women who self-induce abortion, and thus did not apply to Patel's case. This ruling provided a legal precedent against the use of feticide laws to punish women who have abortions, women who are suspected of having abortions, and women who miscarry. The state declined to appeal the case to the Indiana Supreme Court.
Patel is the first woman in the country to have been convicted of feticide for self-inducing an abortion.
Just last month on Sept. 1, the charges against Patel were dropped after spending a year behind bars, and she was spared a 20-year prison sentence. The case demonstrates the dangers that women face under Gov. Pence's rule.
Although Pence did not sign the law under which Patel was convicted, neither has he used his power to change it. In fact, pro-abortion rights activists have 
pleaded with Pence
 to clarify the law so it can't be used in the future to punish other women. So far, Pence has refused.