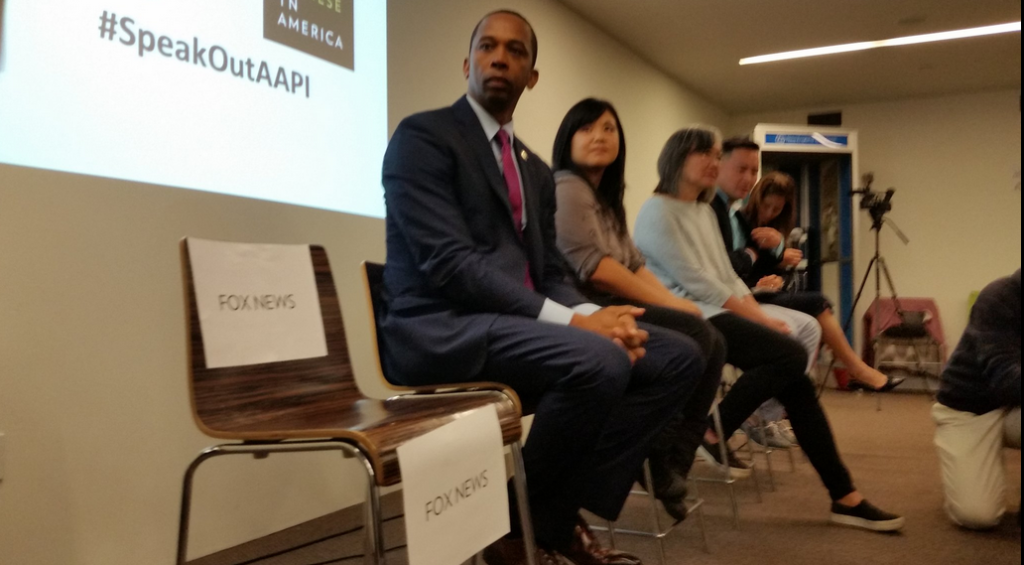 By Yin Mei
Leaders in New York's Asian American community assembled Sunday to discuss a path forward after Fox News refused to apologize for airing a racist segment by reporter Jesse Watters last Monday on The O'Reilly Factor.
The Watters' clip, watched by five million viewers live and millions more online, fueled a firestorm of rebukes from New York City Mayor Bill de Blasio and other state politicians for flagrantly mocking and degrading Chinese Americans. At one point, Watters interviewed two elderly people who couldn't speak English and therefore didn't respond to him.
Sunday's forum was held at the Museum of Chinese in America, not far from where Watter's segment was video taped.  Two seats for Watters and O'Reilly sat empty in the front row. Neither responded to invitations to join the dialogue about media coverage of Asian American Pacific Islanders. O'Reilly was busy defending Watters earlier in the morning on Fox News Sunday, saying the company is "proud of him."
We offered Fox News an opportunity for meaningful dialogue. This was their response. No show at AAJA/MOCA Town Hall. #SpeakOutAAPI pic.twitter.com/rl5RrcHypo

— CeFaan Kim (@CeFaanKim) October 9, 2016

"I would have edited it a little bit differently than it was edited, but no it was not over the line," O'Reilly told Chris Wallace on the show, adding that he received less than ten negative letters and zero phone calls in reaction to the segment.
"They're all the same," he said. "This is an attack on Fox News. That's what it is."
"How many kids have to grow up with this feeling of otherness?" audience member at @mocanyc @AAJA Town Hall re: @JesseBWatters #SpeakOutAAPI

— Ben Bartenstein (@BenBartenstein) October 9, 2016

More than 17,000 people have signed a Change.org petition started by Jenn Fang, a feminist blogger, which demanded an apology, retraction of the Watters' World segment and a meeting with Fox News executives. Fox News has yet to respond to the request, according to Fang.
"Is O'Reilly saying that these voices don't matter?" said Paul Cheung, National President of the Asian American Journalists Association which organized the forum with MOCA.
"We're not attacking Fox News," said Ti-Hua Chang, an AAJA member, at the forum on Sunday. "We're attacking one particular report."
New York Assembly members Ron Kim and Walter T. Mosley, who both spoke at the event, suggested boycotting Fox News and demanding that The O'Reilly Factor's corporate partners terminate their sponsorship. A letter writing campaign is in the works, according to Chang.
"When one community hurts, we all need to come to that community's assistance," said Mosley, a Democrat, adding that "we will go elsewhere [than Fox News] to find similar products, similar pieces of information."
Kim said the clip struck a nerve as it perpetuated racist stereotypes that he still confronts, despite his public profile.
"Time and time again I've been asked where I'm from — China or Korea," he said. "I'm an elected official."
.@JesseBWatters went to 2 elderly ppl, mocked/ridiculed because they don't speak English. Q of ethics. – @tihuachang of @aaja #SpeakOutAAPI

— Ben Bartenstein (@BenBartenstein) October 9, 2016

Although The O'Reilly Factor and Jesse Watters aren't known for big scoops or hard-hitting journalism, any attempt on their part to produce a meaningful segment violated basic journalistic ethics, according to Chang, noting that reporters are advised to speak in a source's native language or use an interpreter rather than whipping a microphone in the face of unsuspecting elderly Chinese Americans as Watters did.
"We're living under this narrative that someone else wrote," said Nancy Yao Maasbach, president of Museum of Chinese in America. "We need to redefine it."
During the discussion, one member of the audience urged those in attendance to speak out when they see injustice.
AsAmNews is an all-volunteer effort of dedicated staff and interns. You can show your support by liking our Facebook page at  www.facebook.com/asamnews, following us on Twitter, sharing our stories, interning or joining our staff.