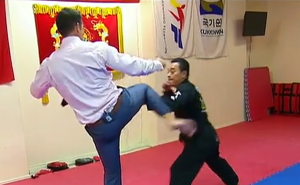 By Louis Chan
AsAmNews National Correspondent
The Asian American Journalists Association announced this evening that executives at Fox News have agreed to meet with them about what many considered to be a stereotype-filled report on New York's Chinatown aired on Fox News.
Paul Cheung, President of AAJA, says the meeting will include several community and AAJA leaders. The executive producer of Fox News has agreed to be at the meeting to be held at the Museum of Chinese in America in New York.
Nothing was said about whether Bill O'Reilly or Jesse Watters, the reporter of the segment, will attend.
The announcement comes just days after Fox News ignored repeated invitations to attend a Town Hall meeting that was held Sunday in New York to discuss the story.
The public is encouraged to share their thoughts on an AAJA Facebook page about what they would like to see result from this meeting.
Also today, blogger Jenn Fang said she turned in a petition with 20,000 signtures from people outraged by the report. The Change.org petition demands a response by October 17.

AsAmNews is an all-volunteer effort of dedicated staff and interns. You can show your support by liking our Facebook page at  www.facebook.com/asamnews, following us on Twitter, sharing our stories, interning or joining our staff.