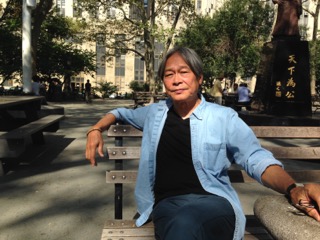 By Paul Lin
Asian American Life
Chinatowns are not just props for media outlets to visit anytime they need a cheap and offensive laugh at the expense of those who live there. These bona fide neighborhoods have a long history dating back more than a century in the US.
Immigrants carved the first Chinatowns from the poorest, least desirable parts of cities and towns. Persecuted by racism following the Gold Rush and building of the Transcontinental Railroad, they banded together for support and community. 
"There was tremendous hostility to Chinese," according to Peter Kwong, Distinguished Professor at Hunter College. "There were attacks, massacres [in the West]." 
Chinatowns still function as a hub for new immigrants; they also happen to be sitting on what developers consider to be valuable real estate. No surprise, there's been a big shift in these communities. 
Census data and independent land use surveys show a dramatic change in demographics in just the past two decades in cities like New York, Boston and Philadelphia; while populations in Chinatowns may be rising, the percentage of Asians and families have plunged, even as single households – young professionals – have jumped. 
New money from China has also helped finance luxury apartment buildings and garment factory renovations, experts say. Young professionals from China also are buying space in and around Chinatowns in new residential developments. Such buildings often come with a condition: that they set aside a portion of affordable housing units. Even so, critics say the threshold for such units puts them out of reach of current Chinatown residents. 
Developments also cause rents in the neighborhood and prices on everyday goods to increase, making Chinatown unaffordable to the people who actually live there. The gentrification causes displacement. Residents who move out can form new Chinatown enclaves. In New York, that has given rise to concentrations of Chinese in neighborhoods like Flushing, Queens or Bensonhurst, Brooklyn, or even further to New Jersey and Connecticut. 
Those who stay in traditional Chinatowns, often the elderly, struggle to stay in their homes as business, real estate and politics seek to alter the landscape. Tenants have teamed up with housing advocates to protest developments that could change the neighborhood to the point where it may more closely resemble an ethnic theme park more than a community. 
Take Washington, DC as an example. By some estimates only a few hundred residents of its Chinatown remain in one subsidized building as the whole neighborhood has changed to support the Verizon Center and those who attend its sports and entertainment events. 
"Residents need to be bussed out to the suburbs in order to buy Asian groceries," says Bethany Li, Senior Attorney with the Asian Outreach unit of Greater Boston Legal Services. 
So what is the future of the vibrant ethnic communities we know as Chinatowns? Check out our story in this month's Asian American Life. 
Watch our entire episode here:
AsAmNews is an all-volunteer effort of dedicated staff and interns. You can show your support by liking our Facebook page at  www.facebook.com/asamnews, following us on Twitter, sharing our stories, interning or joining our staff.