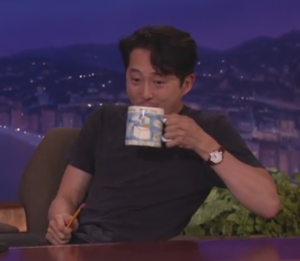 Anyone worried about Steven Yeun's recent demise need not worry any longer.
The Walking Dead fan favorite announced on Conan that he has a new job, substituting for Conan O'Brien in rehearsals.
O'Brien explained he flies in by helicopter seconds before the start of the program, so Yeun's role is an important one.
Check it out.
Yeun has been a regular guest on Conan including during the talk show host's series of shows in Korea.
AsAmNews is an all-volunteer effort of dedicated staff and interns. You can show your support by liking our Facebook page at  www.facebook.com/asamnews, following us on Twitter, sharing our stories, interning or joining our staff.