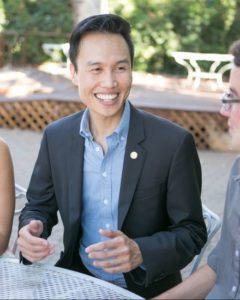 Bao Nguyen is not your typical Congressional candidate.
Not only is he Vietnamese American and gay, but if elected to represent Orange County in California, he would be the first person ever born in a refugee camp elected to Congress.
He's hoping to replace Rep. Loretta Sanchez (D-CA) who's running for U.S. Senator against Attorney General Kamala Harris.
Nguyen has an uphill battle. He qualified for the general election placing a distant second in the primary, losing 44% – 15% to Lou Correa who  served 14 years in the state legislature until 2014.
The significance of his candidacy isn't lost on Nguyen.
"Growing up gay and immigrant in a family with parents that didn't speak English, being made fun of at school and always feeling kind of different—I think that's an asset for me," he said to Fusion. "I may not be able to fit in anywhere, but I'm able to see how we relate to one another and I'm able to draw the connections."
Nguyen is currently the mayor of Garden Grove and also served on the school board and helped to create the first duel immersion language programs.
Nguyen endorsed Bernie Sanders and is considered much more liberal than many in the Vietnamese American community. Most Vietnamese elected to office have been Republicans, but the latest Asian American National Survey released last month found a shift in the community to Democrats.
"Bao Nguyen's a new-generation, millennial Vietnamese candidate who did really well to come in second in the primary," said Jodi Balma, a political scientist at Fullerton College, said to the OC Register.
AsAmNews has Asian America in its hear. We are an all-volunteer effort of dedicated staff and interns. You can show your support by liking our Facebook page at  www.facebook.com/asamnews, following us on Twitter, sharing our stories, interning or joining our staff.