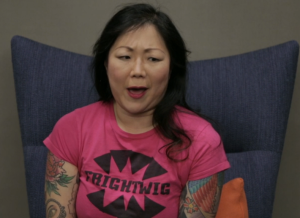 Comedian Margaret Cho who often bares her soul in her performances revealed some new intimate details about her life during a recent show.

According to The Hollywood Reporter, Cho told the audience on November 3 at The Comedy Store in Los Angeles that she has been living in a sober house for five months.

Also known as sober homes, the facilities are temporary living environments to fill the gap between rehab and going back into mainstream society.

Cho revealed friends had staged an intervention, apparently after her much publicized show last Easter Weekend at The Stress Factory in New Jersey when half the audience walked out of her performance.

After her rambling gig, many questioned her sobriety, but Cho blamed it on her stress over the death of her friend, Garry Shandling.

Cho joked during her reveal last week that she brought wine to her intervention, thinking she was going to a party. She ended up getting drunk

A spokesperson for Cho refused to confirm or deny Cho's comment.

AsAmNews has Asian America in its heart. We are an all-volunteer effort of dedicated staff and interns. You can show your support by liking our Facebook page at  www.facebook.com/asamnews, following us on Twitter, sharing our stories, interning or joining our staff.