By Louis Chan
AsAmNews National Correspondent
Both charismatic and hard driving, Japanese actor Toshiro Mifune appeared in nearly 170 featured films and his influence extended from Asia all the way into the backlots of Hollywood.
Just last week, Mifune, who appeared in the American TV miniseries Shogun and such great films as Rashoman,  Seven Samurai, and the Samurai Trilogy, was recognized posthumously with a star on the Hollywood Walk of Fame.
RELATED STORY: VIA YOMYOMF Toshiro Mifune finally gets a Star on the Hollywood Walk of Fame
Among those who spoke at the ceremony was Academy Award winning director Steven Okazaki whose documentary Mifune: The Last Samurai is being screened over the next few months.
"It's nearly 20 years since Mifune's death(1997),"Okazaki reminded AsAmNews. "It's the last chance to make a film about him while the last of his colleagues and friends are still around. Also, it seems to me a good time, in this age of Netflix, to reflect on the extraordinary influence the Kurosawa/Mifune films had and have on our culture. Many young people haven't seen these great films."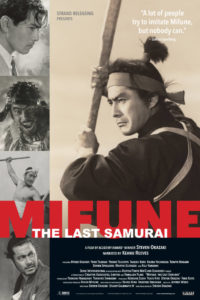 The fascinating documentary is narrated by actor Keanu Reeves of Matrix fame and includes commentary from such great directors as Steven Spielberg and Martin Scorsese. Mifune died in 1997 at the age of 77 and lived with Alzheimer's during the later stages of his life.
"Mifune, directly and indirectly, influenced many of most popular actors, from Paul Newman to Clint Eastwood to Bruce Willis," said Okazaki. "He reinvented the modern movie hero, that cool, wry, deadly loner we've seen in so many films after Mifune."
The actor will be remembered for his long partnership with famed director Akira Kurosawa. The filmmaker was smart enough to let Mifune be Mifune. Kurosawa recognized Mifune's gift for jumping off the screen and allowed him the freedom to interpret and take any scene where he wanted. While both had accomplishments they could call their own, Okazaki thinks the two needed each other pretty equally.
"I can't imagine the career of one without the other," he said. "Kurosawa found Mifune and hung on to him for 16 films. From Drunken Angel on, he made only one film, Ikiru, without Mifune. Both of them knew their best work would come from their collaboration."
Mifune loved to drink and got drunk more often than the public probably realized. Fast cars and alcohol were some of his weaknesses. The two can be a deadly combination, and although Mifune did get into what was likely an alcohol related accident, he managed to survive despite his vices.
He pushed hard on the movie set, and like many great actors, demanded much from his fellow cast members and the crew. Get the scene right, and you were in his good graces. If you didn't meet his expectations, you'd hear about it.
"I'm not sure what drove him. I think once he understood the journey he was on, he took it on, his life and his work, as hard as he could, giving it all, like a samurai. he had "gaman" — drive, determination — like no one else."
Kurosawa showed great depth as an actor and embraced roles beyond the tough exterior of being a samurai. Besides his collaboration with Mifune, Kurosawa made several films with Hiroshi Inagaki. Rickshaw Man, Samurai Saga and Samurai Trilogy were some notable ones.
Okazaki told AsAmNews he wished he had more time to explore Mifune's work with Inagaki. He said those works did not match the great art of Kurosaw's films, but shows Mifune's versatility as an actor.
"Mifune just had this power, barely controlled, ready to explode on screen," Okazaki said. "I can't think of any actor, then or now, who matches him in screen presence."
For a full list of screenings, you can go here.

AsAmNews has Asian America in its heart. We are an all-volunteer effort of dedicated staff and interns. You can show your support by liking our Facebook page at  www.facebook.com/asamnews, following us on Twitter, sharing our stories, interning or joining our staff.