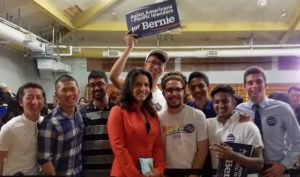 By Louis Chan
AsAmNews National Correspondent

Rep Tulsi Gabbard (D-HI), an outspoken supporter of Sen. Bernie Sanders during the Democratic primary, has met with President-elect Donald Trump, reports CNN.

The pair may not be as an odd of couple that first appears on the surface.

Both Trump and Gabbard, on behalf of Sanders, ran populist campaigns.

Both tapped into the American public's angst over income inequality.

And according to the Washington Post, both have been critical of President Obama's refusal to say the words "Islamic extremism."

RELATED COVERAGE: Washington Post: Trump Meets with Hawaii Democrat Tulsi Gabbard

Gabbard released a statement explaining her meeting.

"While the rules of political expediency would say I should have refused to meet with President-elect Trump, I never have and never will play politics with American and Syrian lives," said Gabbard.

"Where I disagree with President-elect Trump on issues, I will not hesitate to express that disagreement. However, I believe we can disagree, even strongly, but still come together on issues that matter to the American people and affect their daily lives. We cannot allow continued divisiveness to destroy our country.

"President-elect Trump and I had a frank and positive conversation in which we discussed a variety of foreign policy issues in depth. I shared with him my grave concerns that escalating the war in Syria by implementing a so-called no fly/safe zone would be disastrous for the Syrian people, our country, and the world. It would lead to more death and suffering, exacerbate the refugee crisis, strengthen ISIS and al-Qaeda, and bring us into a direct conflict with Russia which could result in a nuclear war. We discussed my bill to end our country's illegal war to overthrow the Syrian government, and the need to focus our precious resources on rebuilding our own country, and on defeating al-Qaeda, ISIS, and other terrorist groups who pose a threat to the American people.

Will Gabbard be offered a position in the Trump cabinet and would Gabbard even accept it? It's doubtful on both fronts, but stranger things have happened.

Can you say President-elect Donald Trump?

AsAmNews has Asian America in its heart. We are an all-volunteer effort of dedicated staff and interns. You can show your support by liking our Facebook page at  www.facebook.com/asamnews, following us on Twitter, sharing our stories, interning or joining our staff.