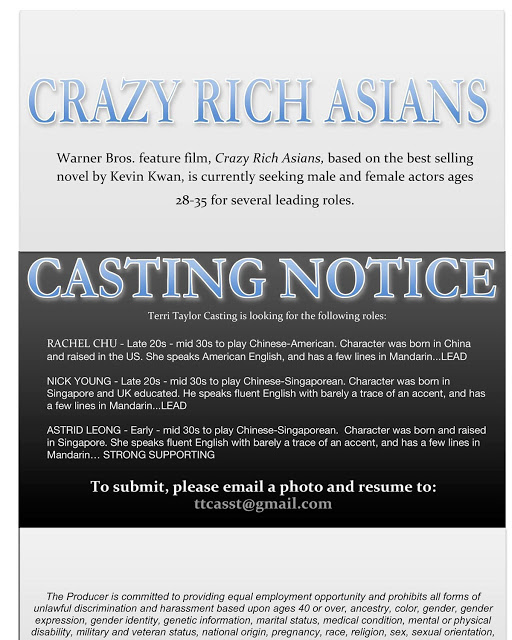 By Ed Diokno
A lot is riding on the success of the movie version of Crazy Rich Asians.
The potential impact of the film that will feature an all-Asian cast goes beyond the diversity issues Hollywood is grappling with, although that alone will make it a landmark in the history of movies.
Besides providing a response to the diversity issues brought forth by #OscarsSoWhite and #YellowFacedOut, the movie and the competitive studio bidding war for the rights of the film addressed the economic aspects of the business.

In addition, Warner Bros., which won the rights for the movie and the film's producers are being careful in how they cast the movie.Based on the novel by Kevin Kwan, Crazy Rich Asians tells the story of three wealthy Chinese families preparing for a big wedding in Singapore. The story spans London, Hong Kong and other locations, but is set mostly in Singapore. Kwan's characters are pan-Asian – Chinese, Korean, Singaporean and amalgams of those nationalities.
Director John Chu told Australia's SNS in an interview that he feels the pressure in casting the film – trying to hew as closely as possible to the ethnicities Kwan portrayed in his book, but also looking for the best possible actors. "We are looking at all these actors and (wonder) are we allowed to cast a Korean actor for a Chinese role? Are we allowed to hire a half-Chinese person for this other role?"
After demanding Hollywood to be more respectful to Asians and Asian Americans, Chu said he now feels a burden to make the most authentic film possible, while also looking for the most talented actors. "There are no rules written" for how to do that, he said.
Chu and his producers said they found that many Asian actors do not have talent representation. So they are on an international tour, with open castings around the world, to cast the film. "That's a lot different than most big studio films," said producer John Penotti.
It is very likely that the roles in the film will make stars out of whomever is cast. Besides the  Hollywood names Americans might be familiar with, actors, models and maybe the guy down the street are eligible to try out for the roles. All you have to do is to send a photo and resume to the email
[email protected]
.