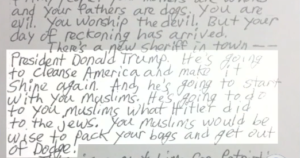 A letter sent to a mosque in San Jose that references the election of Donald Trump says the President-elect will do to Muslims what Hitler did to the Jews, reports ABC7 News.
The letter to the Evergreen Islamic Center calls Muslims "vile and filthy people" and "children of satan."
The center immediately notified police.
"It was disturbing to the fact that some of our parishioners were a little bit worried," Evergreen Islamic Center Board President Faisal Yazadi said.


AsAmNews is an all-volunteer effort of dedicated staff and interns. You can show your support by liking our Facebook page at  www.facebook.com/asamnews, following us on Twitter, sharing our stories, interning or joining our staff.