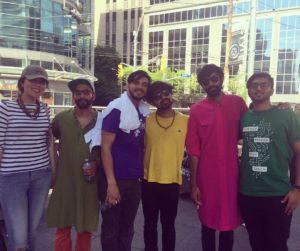 In a sea of White punk bands, The Kominas are a tsunami pushing to make an ocean of change.
The group has made xenophobia and Islamophobia a focal point of its songs and performances.
Lyrics like If you See Something, Say Something, cast a suspicious eye on the way society views South Asian Americans.

The election of Donald Trump has given the band a renewed sense of purpose.
"We're all really scared," guitarist Shahjehan Khan said to Fusion.
"We just can't stop now," Khan said. "It's been 10 years, people definitely identify with us, we have a fan base, and now it's even more relevant."
MORE COVERAGE: This South Asian Punk Band Isn't Backing Down after Donald Trump Election

AsAmNews is an all-volunteer effort of dedicated staff and interns. You can show your support by liking our Facebook page at  www.facebook.com/asamnews, following us on Twitter, sharing our stories, interning or joining our staff.