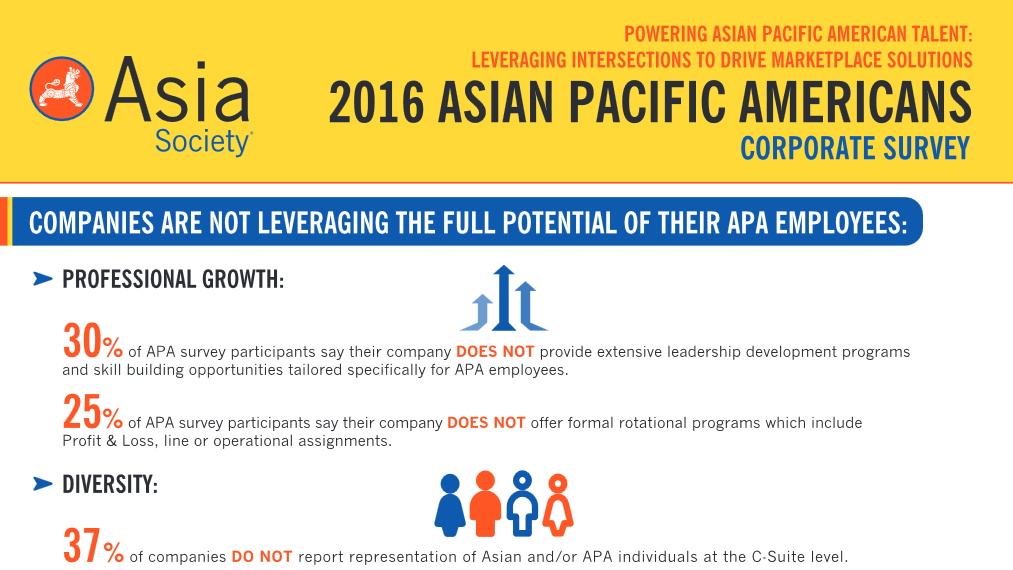 By Louis Chan
AsAmNews National Correspondent
The Seventh Annual Asian Pacific American Corporate Survey from the Asia Society reveal many AAPI employees lack executive leadership opportunities and development.
The survey polled some 3,000 Asian American and Pacific Islander employees from 24 Fortune 500 companies.
Among the key findings, 30 percent of the employees surveyed say their company fails to provide extensive leadership development programs and skill building opportunities.
37 percent of the companies do not report representation of Asian and or Asian Pacific American representation at the senior executive level.
45 percent of APA employees surveyed are not participating in mentorship and 35 percent are not receiving any sort of coaching.
On the positive side, 84% of the employees surveyed say their company does involve their internal APA employee affinity groups in business and growth strategy.
The findings were discussed at the Diversity Leadership Forum held Tuesday in San Francisco.
The lack of participation from the overwhelming majority of the Fortune 500 companies in the survey perhaps said as much as the survey itself.
David Reid of the Asia Society asked those at the Leadership Forum to encourage their employers to participate in the survey and acknowledged the survey needs to get bigger.
The 24 companies who do participate in the survey are seeing it pay off.
The satisfaction index among their Asian Pacific American employees has increased from 71% in 2013 to 93% in 2016.
"Diversity is counting heads. Inclusion is making sure every head counts," said Shariq Yosufzai, Vice President of Global Diversity at Chevron. Talking to employers, he said "how do you engage others? How do you create a compelling vision?"
Many who spoke at the Diversity Leadership Forum, the first ever held on the West Coast, encouraged employees in attendance to develop their soft skills. That includes public speaking, expanding their network beyond personal comfort levels, and reinventing themselves and taking on something new.
Annabelle Chang, Director of Public Policy at Lyft, asked everyone, especially millennials, to develop not only their personal brand, but their professional brands as well. Chang says we're great at sharing the fun and exciting things in our personal lives on Facebook, but said bragging about our professional lives is just as important. Chang sees bragging as a positive.
Eugene Kelly at Colgate, an African American, says its important to bring White males into the conversation about diversity. "Make diversity less of a mystery," he implored.
Carla McDonald of Wells Fargo says its all about having the best employees.
"We compete for the best talent. That's the business case for diversity."
AsAmNews is an all-volunteer effort of dedicated staff and interns. You can show your support by liking our Facebook page at  www.facebook.com/asamnews, following us on Twitter, sharing our stories, interning or joining our staff.