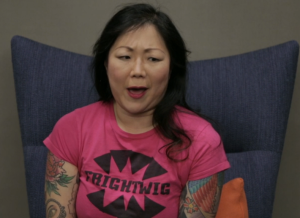 Could this be the year Grammy voters honor comedian Margaret Cho with her first Grammy?
Yesterday she received her fourth Grammy nomination for her album American Myth in the category of Best Comedy Album.
The album features her song I Wanna to Kill My Rapist
Cho had previously revealed she had been sexually abused by someone she considered her best friend.
In an interview with AsAmNews she said "It's more about murdering the rapist in your mind, so you stop killing yourself. Sexual abuse leads to self abuse, so it's not about revenge. It's more about stopping the cycle of abuse. The video is lots of kids in this action fantasy world and they're beautiful – aged 4-18 all incredible martial artists, archers, knife throwers! It's a masterpiece," she said.
"This is an album of anthems and showcases my first efforts as a composer," she said. "It is my glamorous and glittering tribute to family, comedy, anger, fame, gayness, grief, fat pride, love and hate."
Cho also announced she will once again provide her commentary as the co-host of Fashion Police on January 9 on E! at the Golden Globe awards.
"It's going to be a blast to be on the red carpet reporting on all the fashions first hand as an undercover (sort of) officer for Fashion Police!"
AsAmNews is an all-volunteer effort of dedicated staff and interns. You can show your support by liking our Facebook page at  www.facebook.com/asamnews, following us on Twitter, sharing our stories, interning or joining our staff.