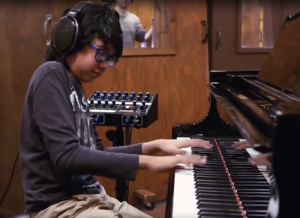 By Ed Diokno
Last year, jazz pianist Joey Alexander became the youngest-ever Grammy nominee in a jazz category with nominations for best improvised jazz solo and best jazz instrumental album.
He didn't take home the Grammy in either category but maybe he'll have better luck this year. The Indonesian wunderkind has  been nominated again – at the ripe, old age of 13 – in the improvised jazz solo category for his performance of "Countdown."
It is not a question of "if" he wins a Grammy, but "when." At his young age, he is still developing and improving and he's got a lot of albums in his future.
The self-taught Indonesian teen has been wowing jazz aficionados from around the world since he was discovered by Herbie Hancock in a Jakarta jazz club three years ago.
RELATED: Who is Joey Alexander and why is he up for a Grammy?
Joey moved with his parents to New York in 2014, with the help of jazz luminaries like the trumpeter Wynton Marsalis, who calls Joey "my hero" on Facebook and with whom he now shares a manager.
When Joey performed last year at the Grammy Award show, it was the first time many in the audience heard him play. For his performance, he received a standing ovation.
The Grammy Awards will be handed out Feb. 12 next year at the Staples Center in Los Angeles.
Enjoy his performance below: