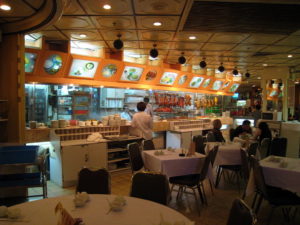 By Minnie Roh
Reporter for Asian American Life
In any corner of any town in America, you can always find at least one Chinese restaurant. But have you ever wondered why there are so many Chinese restaurants in the United States? Ironically, the very law that was formed to curtail Chinese immigration to the U.S. may have actually contributed to the proliferation – due to a key "loophole."
During the 1880's the Chinese Exclusion Act was passed as a result of anti-Chinese sentiment following a depression in this country. Immigration was banned for Chinese laborers, restaurant owners fell under this category. Only non laborers were allowed into the country, which included merchants, teachers, students and tourists. In 1915, a New York court case ruled that Chinese restaurants could be classified as merchants and suddenly, the Chinese had a way to enter the country.
"They formed restaurants as partnerships and they would take different duties," said Heather Lee, an MIT historian. "One would be the accountant, cook, manager. Family and friends would make up the rest. That would allow each person each year to go back home."
The flamboyant culture of the roaring twenties and thirties when dining out was all the rage in big cities also fueled the fire. Couple that with the affordability of the so-called "chop suey palaces" and the Chinese restaurant boom was born.
For more on the history of Chinese restaurants watch our story:
This month's Asian American Life spotlights food from the popularity of ramen to the rise of Filipino cuisine. Watch the entire show here:
Follow us on Facebook @AsianAmericanLife for more information and updates on our stories. Asian American Life is produced by CUNY-TV and can now be seen in syndication at select PBS stations across the country.
Check your local listings for more information.
AsAmNews is an all-volunteer effort of dedicated staff and interns. You can show your support by liking our Facebook page at  www.facebook.com/asamnews, following us on Twitter, sharing our stories, interning or joining our staff.