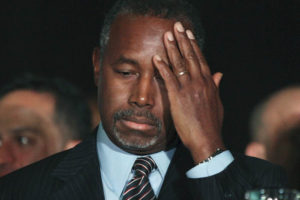 By Ed Diokno
Well, why not? Is anybody really surprised that Dr. Ben Carson is Donald Trump's pick to head up HUD? It makes a lot of sense since the decision to pick the neurosurgeon, who is totally unqualified for the HUD position, was made by Donald Trump, who is also unqualified to become President of the United States.
The reality show that is the Trump presidency will keep you on edge, keep you guessing, leave you wondering what comes next or what Tweet will state the position of the Most Powerful Man in the Free World.
President-elect Donald Trump has nominated a man for secretary of Housing and Urban Development who thinks Islam isn't a religion and has argued that there's a covert Muslim plot to destroy the U.S. from within.
Carson told Breitbart News' Steve Bannon in February that he was concerned about a "civilizational jihad" against the U.S. wherein "jihadists" who "disguise themselves as moderate Muslims" would "infiltrate, multiply and take positions of power" in order to "replace our Judeo-Christian values with Islam."
RELATED: Steve Bannon thinks there are too many Asians in Silicon Valley
The idea of "civilizational jihad" is a popular and thoroughly debunked conspiracy theory," states a CAIR press release. "It holds that Muslims have somehow conspired to eliminate and destroy Western civilization from within. It has been promoted extensively by Frank Gaffney, who heads up the the Center for Security Policy, which the Southern Poverty Law Center considers a hate group.
Aside from his anti-Muslim views, why not appoint a man to head an agency he doesn't like to take it down the rabbit hole to who-knows-where-land. As HUD Secretary, Carson would be responsible for setting housing policies for the Trump administration, including access to affordable housing and community development. The agency has a $47 billion budget and helps 5 million low-income families.
"These government-engineered attempts to legislate racial equality create consequences that often make matters worse," he wrote in an op-ed in June 2015. "There are reasonable ways to use housing policy to enhance the opportunities available to lower-income citizens, but based on the history of failed socialist experiments in this country, entrusting the government to get it right can prove downright dangerous."
His described HUD's efforts as "social engineering," an apparent  swipe at Obama-instigated efforts to open housing and schools in mostly well-to-do, overwhelmingly White communities to minority home-buyers and renters. The Housing Voucher Program and Section 8 have come under heavy criticism by suburbanites who fear the people from the more urban areas. The agency also enforces fair housing laws that bar racial discrimination by lenders and landlords.
Perhaps Trump believes that if the programs aimed at assisting the poor and the most vulnerable can be weakened or dismantled, it wouldn't look so bad if done by an African American who grew up poor and raised by a single mother.
But Carson's story makes him the perfect candidate for conservatives. "Ben Carson is the ideal candidate of color for the right," MSNBC's Joy-Ann Reid told Goldie Taylor of the Daily Beast. "He rejects race as a construct for explaining social and economic mobility, just as White conservatives do; and he even rejects the public programs that helped his own family survive, mirroring the donor class of his party who want to get rid of those programs."
Appointing a neurosurgeon to manage HUD makes as much sense as picking a White nationalist as your senior policy advisor … but wait a minute …. uh, that's exactly what  Trump did when he picked Steve Bannon to whisper in his ear as his senior advisor.