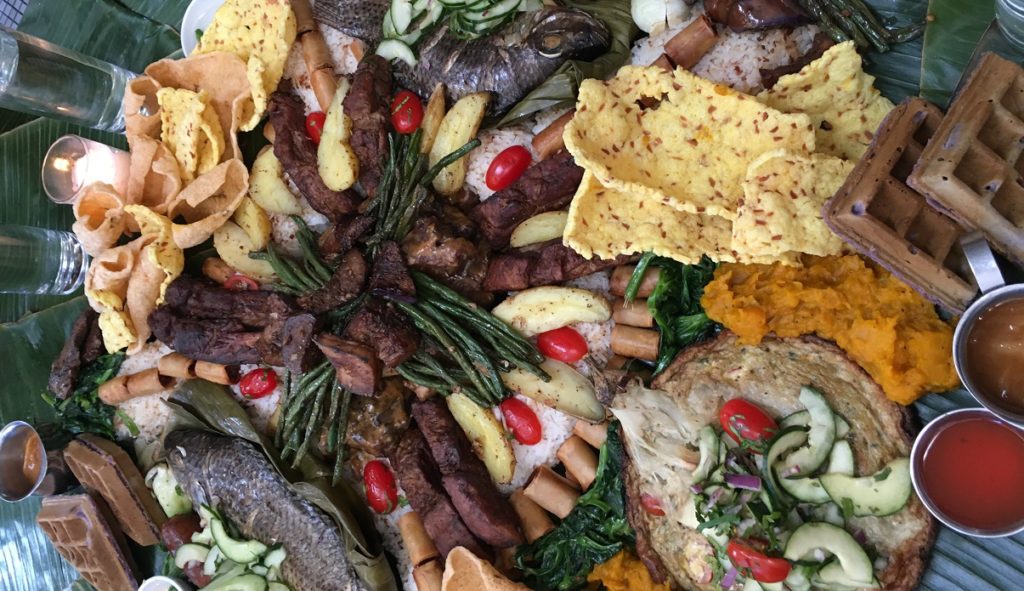 By Ernabel Demillo
Host, Asian American Life
After decades of taking a backseat  to other Asian cuisine, Filipino food has taken off.   Filipino restaurants around the county (and the world) are making the top of the food critic's list.
It's being called the Filipino Food Movement and New York entrepreneur Nicole Ponseca is often credited for being the movement's pioneer.
"It's a fast growing group of like-minded people that want to see our food progress and (to) have a seat at the culinary table," she said.
These chefs, business owners and food lover are doing more than just taking a seat.  They are going right to the head of the table.
Ponseca's restaurant Maharlika Filipino Moderno was recently named one of the best restaurants in the world by Conde Naste Traveler, calling the food  one of the "best Filipino cuisines outside of Manila."
When Maharlika opened its doors in 2011, New York Times food critic Ligaya Mishkin raved about the food and asked "could it be that Filipino food, the underdog of Asian cuisines, is having its moment at last?"
Mishkin was right.  That was the beginning of the Filipino Food Movement with restaurants like Maharlika paving the way.  Ponseca soon opened Jeepney, which like its sister restaurant became a foodie destination spot.
In New York city alone, several Filipino restaurants have opened to rave reviews in the last few years – including Manila Social Club (home of the $100 golden crista ube donut)Pig and Khao, Ugly Kitchen and Lumpia Shack.  Meanwhile, in D.C.,  people are waiting for up to four hours in line to try out Filipino American chef's Tom Cunanan's  menu at  Bad Saint.  The 24-seat restaurant was named the 2nd best new restaurant of 2016 by Bon Appetit. 
For more on the Filipino Food Movement, watch our story here:
<iframe src="https://www.facebook.com/plugins/video.php?href=https%3A%2F%2Fwww.facebook.com%2Fasianamericanlife%2Fvideos%2F1209214859125885%2F&show_text=1&width=560″ width="560″ height="439″ style="border:none;overflow:hidden" scrolling="no" frameborder="0″ allowTransparency="true"></iframe>
The December show is now available online.  In this special edition of Asian American Life, we trace the roots of where your favorite Chinese food and dishes came from and look at the hottest Asian American food trends in the country.
* Ramen Noodle is the world's most favorite comfort food and they've been gaining ground here in the U.S., popping up in every town, city and state.
* There's a Chinese restaurant on every street corner, and the proliferation can be traced back to one historical event in American history.
* After years of taking a backseat to other Asian foods in the culinary world, Filipino cuisine is finally taking off and restaurant critics are giving it a 5 star rating.
* What was once considered the national dish of Korea, is now the darling of the global culinary world.
Asian American Life, produced by CUNY-TV in New York, can now be seen in syndication at PBS stations across the country. Check your local listing for details.
AsAmNews is an all-volunteer effort of dedicated staff and interns. You can show your support by liking our Facebook page at  www.facebook.com/asamnews, following us on Twitter, sharing our stories, interning or joining our staff.