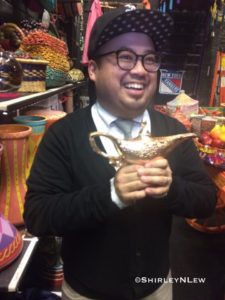 By Shirley N Lew
AsAmNews New York Correspondent
It was fun time in New York talking to the Asian American cast members of the Broadway musical, Aladdin. We spoke about their experience on opening night, their journey to Broadway, their favorite part of the show, advice for others trying to break into theatre and more.  I also asked them how Aladdin's magic carpet worked.
Watch the interviews to learn more about the cast and how the magic carpet really works!
Adam Jacobs, who plays "Aladdin" is part Filipino and Courtney Reed, "Jasmine" is half Vietnamese.  Don Darryl Rivera, "Iago", and three members of the ensemble cast, Bobby Pestka, Josh Dela Cruz and Angelo Soriano are also Filipino.
Here are our interviews below:

AsAmNews is an all-volunteer effort of dedicated staff and interns. You can show your support by liking our Facebook page at  www.facebook.com/asamnews, following us on Twitter, sharing our stories, interning or joining our staff.