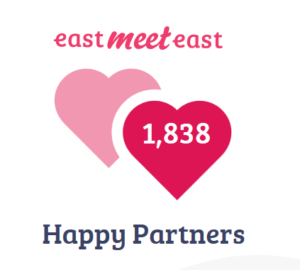 A dating app targeting Asians and Asian Americans in English-speaking countries is giving AAPIs looking for love an outlet most other dating services don't provide.
Alley Watch reports East Meet West just raised $1 million dollars in venture capital to connect Asians with each other. The company is based in New York.
East Meet West claims to be North America's largest Asian dating site and is available on the web and as an IOS app. It is free for women. Men must subscribe to respond to messages from women.
"We are targeting Asian Americans and Asians in the US and other English speaking countries," said East Meet West' Mariko Tokioka to Alley Watch. "EastMeetEast distinguishes itself from other dating sites by offering features created specifically in the context of the Asian dating culture. No other site has successfully built a true Asian community. Current dating sites that are designed with the general public in mind neglect to address the needs of minorities."
The site has teamed up with celebrity Asian Americans such as the Fung Brothers, David So, Linda Dong, and Wong-Fu Production's ISATV.
AsAmNews is an all-volunteer effort of dedicated staff and interns. You can show your support by liking our Facebook page at  www.facebook.com/asamnews, following us on Twitter, sharing our stories, interning or joining our staff.