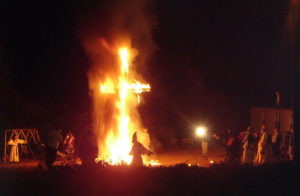 By Louis Chan
AsAmNews National Correspondent

A new series just announced from A&E is igniting an age old debate.
Does media expose wrongdoing or promote it, especially when it comes to sensational topics such as the Ku Klux Klan?
The new docuseries Generation KKK is scheduled to debut in January and run for eight episodes.
"We certainly didn't want the show to be seen as a platform for the views of the KKK," Rob Sharenow, general manager of A&E, told the New York Times. "The only political agenda is that we really do stand against hate."
Many on social media, however, disagree.
Dear @AETV & @nytimesarts, I'm absolutely horrified that you would produce Generation KKK & that NYT would review as if this is all normal.

— Ellen Oh (@ElloEllenOh) December 19, 2016
There should be an immediate boycott of A&E and all of its sponsors as they normalize the KKK with a reality series. Abhorrent

— Wendell Pierce (@WendellPierce) December 19, 2016
PR blitz to make neo-Nazis, KKK, and Russian white nationalists palatable already happening. Now imagine what awaits when Trump takes office

— Sarah Kendzior (@sarahkendzior) December 20, 2016
The show comes at a time many are blaming the media for the election of Donald Trump, saying news organizations paid too much attention to his candidacy at a time few gave him serious consideration as an electable president.
The strongest argument I've heard against the A&E docuseries is what is there to expose. The KKK has long been considered racist, homophobic and against everything not White. This group has been exposed ten fold.The danger of a show like this is the minority in this country that supports such hateful ideology will only become more emboldened by this.
What do you think? Will this show expose the KKK or promote it?

AsAmNews is an all-volunteer effort of dedicated staff and interns. You can show your support by liking our Facebook page at  www.facebook.com/asamnews, following us on Twitter, sharing our stories, interning or joining our staff.