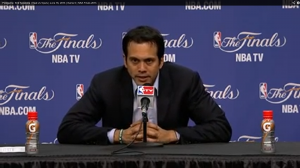 Two-time NBA championship coach Eric Spoelstra has been given a contract extension by the Miami Heat.
Spoelstra is in his ninth season as coach of the Heat and was in the final year of his previous contract.
The Heat this year is only 10-24, but the extension is a sign the team sees Spoestra as the coach to lead them during their rebuilding years.
The team's biggest success came when it had the trio of Lebron James, Dwyane Wade and Chris Bosh. James and Wade have both departed and Bosh has not played all season due to a blood clot.
The Heat confirmed Friday the deal for the extension was made during the summer, but not previously announced. Terms of the deal have not yet been made public.
"I'm invigorated by it regardless of what the record is," Spoelstra said to the Palm Beach Post. "We're able to step back with perspective and look at the big picture and guys are getting better, the team is getting better. We're forming an identity that we're getting more consistent to.
Judging from comments made by team president Pat Riley, the Heat doesn't expect a quick turnaround.
"[Spoelstra's] got his work cut out for him. Welcome to being an NBA coach. It's not always going to be easy and sometimes there are going to be other challenges. But I know one thing about him, he's competitive and excited and knows what the challenge is."
Spoelstra is the first Asian American head coach in any of the four major professional sports and the first to win a professional championship. His mother is Filipino.

AsAmNews has Asian America in its heart.  We're an all-volunteer effort of dedicated staff and interns. You can show your support by liking our Facebook page at  www.facebook.com/asamnews, following us on Twitter, sharing our stories, interning or joining our staff.