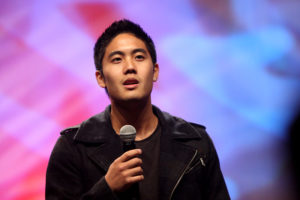 The 2017 Forbes 30 Under 30 list for Hollywood & Entertainment features Ryan Higa, Asian American actor and YouTube comedian with over 18 million subscribers on his channel, nigahiga. Despite its briefness, his bio on the Forbes website speaks volumes for the Asian American and YouTube communities. A prominent figure also on the Forbes list is fellow YouTuber Tyler Oakley, who uses his fame to advocate for LGBT rights.

Reflecting on the past several years, there has been a noticeable rise in the popularity of Asian Americans on YouTube, as people of color turn to this community in order to find creative outlets they aren't given in mainstream media. As Hollywood continues to face its many issues of lack of representation of POC, we see an explosion of diversity on smaller platforms like YouTube.


Mark Fischbach, also known as Markiplier, does not fall far behind Higa; MarkiplierGAME has over 15 million subscribers. Born in Hawaii of Korean descent, he is currently based in Los Angeles, creating videos that follow the popular "Let's Play" format, where he records himself playing and reacting to video games. He often does livestreams to raise money for various charities and collaborates with other videogamers on YouTube.

While Ryan Higa and Markiplier are the only two Asian Americans to break into the top 20 most subscribed YouTubers, and Higa and Oakley are the only YouTubers featured on Forbes 30 Under 30 for 2017, there are many other YouTubers who have proven they deserve time under the spotlight as well. Wong Fu Productions, with over 2.5 million subscribers, has recently released a video titled "Why is Santa Asian? ft. Randall Park." One of the video's top comments by Maksil Lorenzo said, "I [expletive] love Wong Fu, and how they give a place for Asian American entertainers to perform their craft."

Jenn Im, Korean American fashion vlogger, has over 1.5 million subscribers on her YouTube channel, ClothesEncounters. While Asian Americans are celebrated in the fashion world, with top-dog designers like Vera Wang and Alexander Wang, Im and her channel represent the more affordable and day-to-day lifestyles that resemble high fashion and can cater to the youth of today. Im models the outfits she picks out herself, when we don't get to see many Asian American bodies in the actual modeling industry. For Thanksgiving, she modeled "Bloated Day Outfits":


Asian Americans have also successfully branched off of the YouTube platform. Michelle Phan's channel has over 8 million subscribers, but she has not recently posted videos to the site; she now has her own line of beauty products as an extremely successful make-up artist and entrepreneur – however, her original growth in popularity can be attributed to YouTube.

While YouTube continues to grow, so does the visibility of people of color who use it. With popular YouTubers expanding their influence on viewers across the nation and worldwide, let's hope 2017 will be a good year for increased Asian American representation.

Related: Jeremy Lin & Ryan Higa Team up for Space Jam 3: Anime Edition
AsAmNews has Asian America in its heart. We're an all-volunteer effort of dedicated staff and interns. You can show your support by liking our Facebook page at www.facebook.com/asamnews, following us on Twitter, sharing our stories, interning or joining our staff.