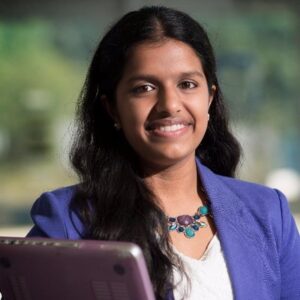 First Lady Michelle Obama has selected Swetha Prabakaran to serve on the inaugural Student Advisory Board of the education campaign Better Make Room, reports The Indian Express. Better Make Room seeks to provide education opportunities for teenagers in the U.S.
The campaign supports Michelle Obama's Reach Higher Initiative, with the campaign website stating, "Better Make Room is about creating a space for all the great things you'll do next. It's about staking a claim, forging a path and lighting the way for others just like you. And it's a lot more fun to get there together."
16-year-old Indian American Prabakaran was born in Indianapolis; her parents immigrated from India in 1998. She is currently a senior at Thomas Jefferson High School for Science and Technology in Virginia and was chosen for the board for her efforts to educate youth in computer sciences. She founded Everybody Code Now!, whose mission can be found on its website: "Everybody Code Now! Is a non-profit organization that works to empower the next generation of leaders in computing to transform their future and help lead their communities towards a new era of technical expertise and entrepreneurship from exposure to basic programming skills."
Prabakaran is one of 17 students chosen by the White House to serve on this board. These students are heading to the White House today to attend the First Lady's School Counselor of the Year Ceremony.
Prabakaran was a 2015 White House Champion of Change and was one of the International Literacy Association's "30 Under 30" for 2016. Speaking of her selection for Better Make Room, she said, "I am deeply honored to be able to serve on this board. Creating a college-going and college-graduating culture among youth is something we have worked to encourage through Everybody Code Now!, and I am extremely excited to share this passion with even more students."
Better Make Room also released a statement on its new Student Advisory Board: "As proven leaders, organizers, change makers, and innovators, these students will help the country achieve President (Barack) Obama's North Star goal, that our nation will once again lead the world in college completion rates."
AsAmNews has Asian America in its heart. We're an all-volunteer effort of dedicated staff and interns. You can show your support by liking our Facebook page at www.facebook.com/asamnews, following us on Twitter, sharing our stories, interning or joining our staff.