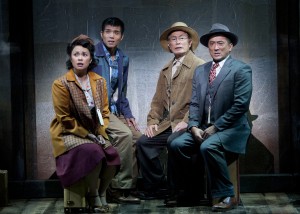 Allegiance, the short-lived Broadway musical about a family torn apart by the incarceration of Japanese Americans, is getting a second life on the big screen.
The Los Angeles Times reports a special one night screening of the Broadway musical in 600 movie theaters set a record for Fathom Events, the company that produced it.
The musical grossed more than any other one night event the company has ever shown, more than one million in ticket sales.
Fathom has announced Allegiance will come back for a curtain call on February 19, the 75th anniversary President Franklin D. Roosevelt signed Executive Order 9066, ordering Japanese Americans in the Western United States to report to prisons euphemistically called relocation centers.
Allegiance is the legacy project of George Takei, the actor and social media star who spent several years of his childhood in an incarceration camp in Arkansas. Allegiance is loosely based on his experience in the camps.
"At a time when echoes of the interment ring once again far too loud in our political discourse, there's never been a better moment for the story of 'Allegiance' to find new audiences," Takei said. "It is a true testament to the power and the relevance of this story that so many people attended its premiere in December, and it is only appropriate that even more people will be able to witness it on such an important day as Feb. 19, 2017."

AsAmNews has Asian America in its heart.  We're an all-volunteer effort of dedicated staff and interns. You can show your support by liking our Facebook page at  www.facebook.com/asamnews, following us on Twitter, sharing our stories, interning or joining our staff.