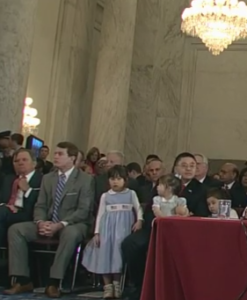 A news host and writer for MTV is under fire for a tweet that inferred Attorney General nominee Jeff Session used his Asian American grandchildren as props during his confirmation hearing.
Sessions confirmation has been heavily opposed by civil rights activists who have openly called his actions racist. The Tweet by Ira Madison III which has since been deleted read "Sessions, sir kindly return this Asian baby to the Toys "R" Us you stole her from.
The children were seated behind Sessions during Tuesday's hearing. Many on social media quickly jumped to Sessions defense.
In case anone missed the tweet from @ira of @MTVNews, here it is. Completely hateful and disgusting. pic.twitter.com/uNim106VrG

— Steven Cheung (@CaliforniaPanda) January 10, 2017

Another tweet read "there is no reason for that child to be in his lap in a hearing other than to send an "I'm not racist message"
The Hill reports Sessions daughter Ruth Sessions Walk is married to an Asian American man.
MTV issued a statement saying the views expressed by Madison do not reflect the views of MTV News.
That's his grand daughter, @ira, WTF is wrong with you? pic.twitter.com/13m1uxsIlY

— Mike Cernovich ?? (@Cernovich) January 10, 2017
.@ira from @MTVNews deleted his tweet toward Jeff Sessions and his grandchild. It's ok. It's been saved for you! ?? pic.twitter.com/LQVhGpUETh

— Hutch (@LawlessPirate) January 10, 2017


The controversy, however, has not changed the opinion of civil rights group about the fitness of Sessions to be the U.S. Attorney General.

Jeff Sessions' half-Asian granddaughter, sitting directly behind him, is very cute, but he should not be confirmed as AG. #StopSessions https://t.co/PuTlkh3t4q

— AsianAmericanLegal (@aaldef) January 10, 2017
AsAmNews has Asian America in its heart.  We're an all-volunteer effort of dedicated staff and interns. You can show your support by liking our Facebook page at  www.facebook.com/asamnews, following us on Twitter, sharing our stories, interning or joining our staff.