Amidst America's contentious election, BuzzFeed recently published an article entitled, "17 Foods That White People Have Ruined." Example foods from the article include "Pho with Broccoli and Quinoa" and "Nutella Samosas." The popular piece gained over 1 million views and 602 comments. Its top-rated comment argues against the article's defamation of 'White people': "That sh*ts not exceptable [sic] for any race, even White. Y'all talk about the love the world needs but you spread hate. If you really care about equality, show it to all."  Conversely, other comments defended the article's suggestion that white-washing food was insensitive, citing appropriation.
The examples listed in the article reflect mixing global culinary staples with food items dubbed "Qhite."  But, combining unexpected foods from diverse cultures is something done by modern chefs of all backgrounds. In fact, Asian American chefs are arguably the most regular purveyors of fusion foods.
AN ARGUMENT FOR MIXING
Take for example the Phoritto: a corn tortilla shell wrapped around essential pho ingredients of sliced rib-eye steak, bean sprouts, cilantro, onions, basil, jalapeño, lime juice and noodles. The Phoritto is a popular example of blending cuisines. It is the brainchild of Erwin Tjahvadi, the chef of the highly-rated Komodo restaurant in Los Angeles. A less obvious example of fusion Asian cuisine is food served at popular restaurant chain, Panda Express. Panda Express is known for Orange Chicken and an equally orange Chow Mein. Foods served at Panda Express include various meat and rice dishes, and even fortune cookies for dessert. Panda Express has been on the market since 1983.
Naysayers of the Phoritto claim that its purpose is to reinvent Pho, and traditionally, broth is the most necessary component of the entrée. Critics of Panda Express commonly argue that the Chinese food served at the chains are bastardized versions of authentic Chinese food. In an interview with the New York Times, food critic Robert Sietsema says of the recently opened Panda Express, "they bombed in New York…They'll always bomb in New York because we're pretty damn sophisticated when it comes to Chinese food." This negative opinion may be reflected on Yelp where Panda Expresses around the Los Angeles area average 3 of 5 Yelp stars, with a mode of 2.5 stars.
However, even with criticism, the specialties are doing well. Panda Express serves around 70 million pounds of orange chicken annually, and peaked at 2 billion dollars in revenue in 2014. The Phoritto trend has gone global to Japan, and has been featured in culinary magazines such as "Foodbeast." Chef Erwin Tjahvadi of the Phoritto is in fact an honors graduate of Le Cordon Bleu.
CAN ASIANS APPROPRIATE FOOD?
Commenters in the BuzzFeed article say the White combinations are adulterating the foods from other cultures, stealing the intellectual property of a country's defining cuisine, and stripping away its heritage by adding non-traditional flavors. Their arguments reflect the fears of a more notorious beast: cultural appropriation. So, are White people once again taking without acknowledging? What about these Asian chefs? Are the chefs of these restaurants appropriating? Should a burrito ever be combined with a soup, and does Mongolian Chicken have the right to claim Mongolian roots?
The answers to these questions may be either silly or subjective, but the success stories behind each fusion food item is not. The interesting commonality between the chefs of Panda Express and the Phoritto are twofold: they are immigrants, and they do not claim authenticity.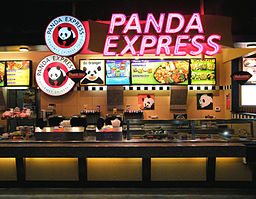 The restaurateurs Erwin Tjahvadi of the Phoritto, and Peggy Cherng and Andrew Cherng of Panda Express all migrated from Asian countries in their youth. In interviews with each of these chefs, they state the profound influence of diaspora on their culinary ideas. In chef Erwin Tjahvadi's biography online, he cites influence from many cultures, "Specializing in mixing French traditional technique with his penchant for Asian fusion flavors, Tjahyadi created a signature modern California Asian fusion cuisine." For Peggy and Andrew Cherng, the origins of their global chain come from a simple and common immigrant story: Andrew Cherng's father opened a restaurant to get by financially. Panda Express explicitly states on their website the food served is uniquely American Chinese.
These two commonalities in the cuisine reflect an appreciation and a personal history with the foods served. With the opening of doors to immigrants in America, the foods and culture of each become ultimately shared to create an entirely new type of fare. That may be the difference between foods appropriated and not.
East Meets West
Denotatively, appropriation means to borrow without asking for permission, however these chefs typically do not ask. They mix knowing that the boundaries of food are blurred, and in the context of America's melting pot, food from all heritages are best shared.
These are not instances of making food more palatable for Caucasians. These are instances, like the history of the Italian pizza and German hamburger, two iconic entrees now quintessentially American. Through history and time, foods and flavors brought over by immigrants were integrated into the status quo of American cuisine. Fusion foods are the expected creative result of immigration. In fact, the nexus may be the norm of American cuisine.
Who is to say that Caucasians in their mixing do not value the foods and their derivative cultures, or do not have personal ties to the flavors? Labeling appropriation is hard, and situational.
Sharing Food, Sharing Ideas and Donald Trump's Inauguration
Anthropologists have long argued that sharing cuisine is a fundamental, primal and intimate way of sharing culture. Similarly, a study from the University of Antwerp shows that the act of sharing food provokes altruistic thoughts. Charlotte De Backer, the lead researcher of the study wrote to TIME Magazine in 2014, "sharing food primes people to think about fairness (do I get as much as everyone else at the table?), authority (who is being served first?), and greed (Sometimes I cannot take as much as I would personally want.)"
Sharing food and combining seemingly incongruous ideas is just what America needs now, as many fear discrimination during the next four years under President Elect Donald Trump. Even the Dalai Lama is quoted as having said, "I sometimes think that the act of bringing food is one of the basic roots of all relationships." Symbolic as food may be, perhaps for this year's Inauguration Day meals, it would not be a bad idea to serve Mr. Trump Orange Chicken and a Phoritto.  It would certainly show the diversity of America—Asians, Caucasians, and all races inclusive.