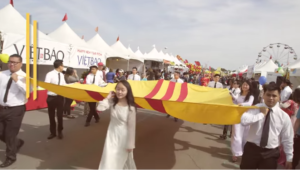 By Brittney Le
AsAmNews Intern

What's so special about January 28th this year? It won't be just any normal Saturday – Lunar New Year is finally coming, ringing in the Year of the Rooster.
Lunar New Year is celebrated by various Asian cultures, notably Chinese, Vietnamese, Korean,  Cambodian,Thai , Burmese, Cambodian and Nepali; just to name a few. Lunar New Year is also often referred to as Chinese New Year but this is often considered too exclusive of a title. The lunar calendar is cyclically represented by 12 zodiac animals, each year in passing characterized by a different animal. 2016 was the Year of the Monkey; starting this Saturday, it'll be the Year of the Rooster. The year in which you are born can carry significant meaning: some people like to believe that your zodiac animal is reflective of your personality. Your zodiac year is also considered to be your unlucky year.
Tết, the Vietnamese term for Lunar New Year, is one of the most important holidays for the Vietnamese and many Vietnamese Americans. Walking down the streets of Little Saigon, there are many signs of the new year to come: one can buy flashy home decor, traditional Vietnamese dress, customary Vietnamese new year foods, and much more. Most decorations and signs are vibrant red, a color indicative of good fortune and luck. Red envelopes are handed out, filled with cash as typical Lunar New Year gifts for children. You'll also see performances in crowded parking lots of Vietnamese shopping centers. Lion dancers play the audience for money, as excited spectators give their children dollar bills to toss into the open mouths of the lions' heads.
The annual Tết Festival will be returning to Southern California at the OC Fair & Event Center this year. From January 27-29, there won't be any lack of fun and games. There'll be lots of shows, with the Miss Vietnam of Southern California Pageant, talent and dance competitions, and phở (a traditional Vietnamese food) eating contests. Food vendors and carnival game booths will be everywhere you turn. Check out more details on the event here.
The Vietnamese community in Orange County, California, is just one little pocket in which the Lunar New Year is celebrated. Across the country, several different Asian communities will be showing their festive colors. The Lunar New Year will be keeping the streets alive all over, from Boston to New York City to San Francisco. Koreans, Laotians, Singaporeans, and many other Asians celebrate the Lunar New Year. The Chinese New Year is typically celebrated for a full 15 days in China; while the streets aren't typically jam-packed with ongoing celebrations for two weeks in the U.S., this holiday is still an important cultural gathering for many Chinese families, along with many other Asian families.
Be on the lookout for different festivals near you; they'll be all over the place this upcoming weekend. However, be warned if you were born in the Year of the Rooster; this year may not bring you the best of luck!
Check out a video of the 2016 Tết Festival:


Related: Year of the Rooster Stamp to Debut January 5, 2017 in Seattle

Related: NBA Sends Out Animated Chinese New Year Greeting
AsAmNews has Asian America in its heart. We're an all-volunteer effort of dedicated staff and interns. You can show your support by liking our Facebook page at www.facebook.com/asamnews, following us on Twitter, sharing our stories, interning or joining our staff.