By Ed Diokno
On Jan. 20, Donald Trump was installed as President of the United States. On Day 2 of his administration, the country held a do-over and Trump – without the help of the Electoral College system –  came out on this short end.
The turnout – estimated to be about 2 million worldwide – dwarfed the crowds for Trump's inauguration and that apparently was a major concern of the Trump administration as they felt compelled to criticize the media (again) for underestimating the inauguration turnout.
RELATED: 
Nephews, nieces, cousins and friends joined the celebrities and other AAPI in marching for equity, women's rights, immigration reform, justice and just to be seen as human beings instead of the demons as painted by the Tweeter-in-Chief. and his supporters.
You have to be up to speed on Asian stereotypes to understand this message. Great sign!
This might be my favorite sign on the back of a wheelchair-bound former victim of the WWII internment of Japanese Americans. She is referring to Trump's call for restrictions on Muslim immigration and the call for a Muslim Registry.
My hero pic.twitter.com/YnEuIFmWIq

— John Early (@bejohnce) January 21, 2017

Comedian Jenny Yang had a funny sign … but, it makes its point.

Celebrities, like Gina Rodriguez (above) – who also have the same rights of ordinary folks – voiced their opinions during the march. There were too many to count but some celebrities who made their presence known included Katy Perry, Ashley Judd, who delivered a blistering word poem performance of "Nasty Woman," Scarlett Johansson, Madonna, America Ferrerra, Gloria Steinem, Whoopi Goldberg, Katy Perry, Lena Dunham, Alicia Keyes, Zendaya, Amy Poehler and so many more.
Si se puede. pic.twitter.com/DesrVrJ6bv

— Gina Rodriguez (@HereIsGina) January 21, 2017

The march in Antartica expands the Women's March to all seven continents. Organizers said they had to limit their march because they wanted to limit their imprint on the fragile environment.
#WomensMarch is on all 7 continents. Yes, even in Antarctica :https://t.co/FzyWnDfH7Z pic.twitter.com/hmHLtOBEJj

— Col. Rae Hodge (@RaeHodge) January 21, 2017
Supporters marched throughout the world, Africa, Europe, South America, Australia and Asia, including Tokyo.
It begins! #WomensMarch #womensmarchtokyo #tokyo pic.twitter.com/pBTdjDN61a

— Liz・リズ (@LittleLizu) January 20, 2017
'Fresh Off the Boat' actress Constance Wu, right, hooked up with an old friend at the Washington D.C. march.
I'm so proud of my friends and family who took part in this historic event.
The pink hat dubbed Pussycats, were everywhere Saturday. including San Diego.
"The best thing you can do is not stay silent," Indian/American Padma Lakshmi, who hosts the Food Network's Top Chef, tells The Hollywood Reporter, adding that she thinks that's one of Martin Luther King Jr's most important lessons. "It's not just about saying what's wrong but it's about saying what should be and what's right.
"A lot of things that we took for granted and didn't really appreciate are going to go away," she said. "And they're going to go away unless enough people raise their voice and give their presence."
And the key question is: What next? Can the people who marched keep up their involvement after they come down from the high that came from the March? Will they write the letters, gather the signatures, make the calls, donate the money to groups fighting for our rights, join an action group, question their congressional reps, and organize?
Organize, organize, organize.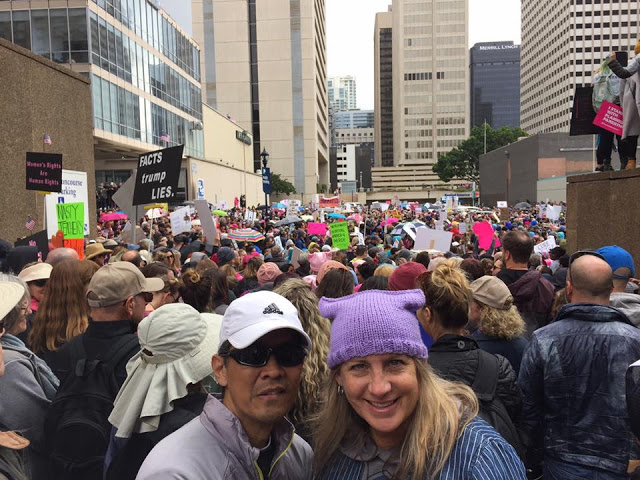 Ed Diokno writes a blog :Views From The Edge: news and analysis from an Asian American perspective.