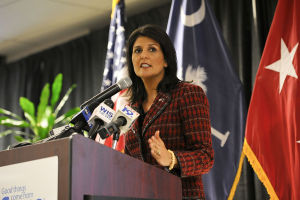 The Senate easily confirmed South Carolina Governor Nikki Haley for Ambassador to the United Nations.
NBC reports just four people opposed her nomination, including Vermont Senator Bernie Sanders.
She is the first women confirmed to the Trump cabinet, although Elaine Chao's nomination for Transportation Secretary passed out of committee.
Some criticized Haley for her lack of international experience, but others pointed to her dealings with Russia and Israel.
"Russia is trying to show their muscle right now. It's what they do," she said. She added: "I don't think we can trust them. We have to continue to be very strong back, and show them what this new administration is going to be."

AsAmNews is an all-volunteer effort of dedicated staff and interns. You can show your support by liking our Facebook page at  www.facebook.com/asamnews, following us on Twitter, sharing our stories, interning or joining our staff.