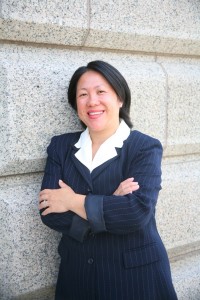 Civil rights advocate Mee Moua is leaving her position as executive director of Asian Americans Advancing Justice, the organization announced.
Moua served in that role for five years.
Her departure, while not publicly known, was apparently not a complete surprise to the organization which said it expects to make an announcement about Moua's replacement this week.
Moua is the first Hmong American ever elected to a state legislature in the country. Voters in St. Paul elected her to the  Minnesota State Senate in 2002 and she served until 2010.
Moua is credited with raising the profile of Asian Americans in the nation's capital on such issues as affirmative action, reproductive justice and LGBTQ equality. She has appeared on CNN and was selected twice to Washingtonian Magazine's list of 100 Most Powerful Women.
"It is an understatement to say that we face dark days ahead, but I believe that the good women and men at Advancing Justice, the frontline fighters in our movement, and the people of this country have already demonstrated that we have the gumption and the courage to stand up and keep fighting," she said. . "I know that our mission to advance civil and human rights can, and will be achieved because we have faith in each other and are firmly committed to working together."
AAJC's Board of Directors thanked her for her tireless leadership.
"Under Mee Moua's leadership, Advancing Justice | AAJC lead the effort to secure reunification for Filipino American World War II veterans and their children; fought to protect language access, affirmative action, and technology equity; and ensured that the United States Census is more inclusive of our changing demographics," said Parkin Lee, chairman of the board of directors. "She stood up for immigrants and refugees, she spoke out against hate and discrimination affecting the most vulnerable in our diverse communities, and she fought for voter protection and voter access to the ballot box"
Prior to joining AAJA, Moua worked at the Asian & Pacific Islander American Health Forum as Vice President.
Moua, 47, has not announced what she is planning to do next.
(An earlier version of this story incorrectly identified where Moua served in the State Senate.)
AsAmNews is an all-volunteer effort of dedicated staff and interns. You can show your support by liking our Facebook page at  www.facebook.com/asamnews, following us on Twitter, sharing our stories, interning or joining our staff.