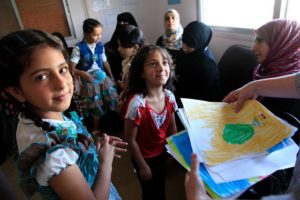 Vietnamese priest Reverend Chuong Hoai Nguyen recently wrote a letter to President Donald Trump offering his own citizenship to a Syrian refugee. Commonweal Magazine, an independent journal run by Catholics, released the letter this week.
In his letter, Rev. Nguyen shows his support for Syrian refugees, having been a refugee himself as he fled the Vietnam War with his family around the time of the fall of Saigon. He also expresses his deep gratitude for the American servicemen who fought for South Vietnam.
"Becoming a refugee is a choice one makes when there are no other options," he says in his letter. Rev. Nguyen is Director of Youth Ministry and Youth Retreat specialist at St. Joseph Salesian Youth Renewal Center in Rosemead, California; Chaplain for the Vietnamese Catholic community at San Gabriel Mission in the archdiocese of Los Angeles, California; and co-founder of Lửa Việt Youth Association, a community-building nonprofit for Vietnamese-American youths.
He closes his letter by stating his desire to give up his U.S. citizenship and continue his religious work in one of the seven Muslim-majority countries listed in Trump's executive order – Trump has attempted to ban immigrants and travelers from these countries from entering or re-entering the United States.
"I am a refugee. I am an American and I have made America great in my own way for the 42 years since I was granted asylum in this great country. But now, I would like to relinquish my U.S. citizenship and ask that you grant it to a Syrian refugee. I am certain that they, like all refugees, will not squander this gift of life," the letter said. "I will ask my religious leader to grant me permission to continue my mission in one of the seven banned Muslim-majority countries on your list of people barred from entering the U.S. In this, I ask your blessing."
Although the White House has claimed it will not be challenging the ruling of the Ninth Circuit Court of Appeals against Trump's executive order travel ban, it is likely that the President will follow up with another executive order to block immigration from specific countries, reports The Independent.
Our legal system is broken! "77% of refugees allowed into U.S. since travel reprieve hail from seven suspect countries." (WT) SO DANGEROUS!

— Donald J. Trump (@realDonaldTrump) February 11, 2017
Rev. Nguyen says he would not have been able to provide his extensive services to the Vietnamese American community if a ban on refugees had been in place back then.  "My heart and my soul were frozen," when he heard about President Trump's ban, he wrote.
Related: Kim Kardashian and Pope Francis Agree: Trump's Muslim policy is Bad

Related: Sen. Harris Introduces Bill for Legal Counsel for Refugees
AsAmNews has Asian America in its heart. We're an all-volunteer effort of dedicated staff and interns. You can show your support by liking our Facebook page at www.facebook.com/asamnews, following us on Twitter, sharing our stories, interning or joining our staff.