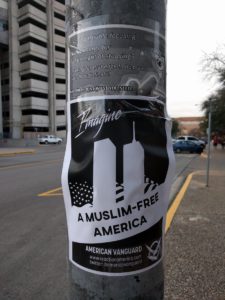 A town hall meeting has been called by the chancellor of the University of Texas after anti-Muslim and anti-immigrant flyers were found on campus, reports The Statesman.

The flyers proclaimed "imagine a Muslim-free America" and "A notice to all citizens of the United States of America, it is your civic duty to report and and all illegal aliens to U.S. Immigration Customs and Enforcement—they have broken the law."


The University released the following statement:
"Our campus has no place for speech that targets individuals or groups based on religion, race, ethnicity, nationality, gender, disability, sexual orientation or gender expression. We are a campus which welcomes and celebrates all dimensions of diversity.

"While we welcome the discussion of all ideas, they must be shared freely and fairly so that they can be properly debated as a campus community. The anonymous posters were inconsistent with our campus values and counterproductive to true campus dialogue."

The posters have since been removed and students are encouraged to report any similar posters they may see on campus. The flyers appear to have been posted by American Vanguard, a White supremacist group. The group's own website proclaimed on February 18 that the flyers were posted at a Mosque in Louisiana, Rutgers University in New Jersey, and the University of Texas.

"Imagine an America free of a violent minority who is politically, socially, and economically incompatible with White Americans and has no natural right to be here," the blog post read.

The town hall at the University of Texas is scheduled for Wednesday at 2 p.m. at the Student Activity Center.

AsAmNews has Asian America in its heart. We're an all-volunteer effort of dedicated staff and interns. You can show your support by liking our Facebook page at www.facebook.com/asamnews, following us on Twitter, sharing our stories, interning or joining our staff.