By Louis Chan
AsAmNews National Correspondent
Television reporters who have their eyes focused on the camera can often be vulnerable to being accosted by members of the public.
That's what happened to veteran New York reporter Cefaan Kim who has worked for more than a decade in New York City.
In the video, you can see the masked man approach Kim and get physical with him as he was attempting to report live. The man could be heard muttering "put the camera on me, what's up, what's up."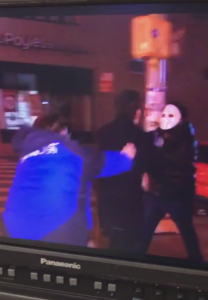 Kim, a former Army veteran, then walked toward the man with his arms thrust forward. The man pushed Kim to the ground who then quickly jumped up.  The reporter had to be restrained by a bystander and feller WABC employee.
The man would quickly run off.
This is the man who attacked me last night during a live broadcast. If anyone has seen him around please give the 7th precinct a call. pic.twitter.com/enkqQe0mxC

— CeFaan Kim (@CeFaanKim) March 4, 2017

On his Facebook page, Kim wrote:
"Thank you to everyone who was concerned about my well being. Guy totally snuck up on me. He wouldn't get off me so I shoved him off and then he pushed me to the ground. Thank you to my crew and the random stranger who kept us separated and calmed me down in the heat of the moment… because I'm not gonna lie… when someone puts their hands on you, it's hard not to get amped up. And thank you to the NYPD who showed up quickly and handled this with the utmost professionalism. And to all my news colleagues, friends, viewers, everyone who asked… I'm fine. Just a scrape and a bruise. Viewer sent me this on twitter, and now that I've cooled off, I have to admit this is one helluva photo."
AsAmNews is an all-volunteer effort of dedicated staff and interns. You can show your support by liking our Facebook page at  www.facebook.com/asamnews, following us on Twitter, sharing our stories, interning or joining our staff.