A discrimination hearing will be heard this month for a Chinese American who lost her job with the National Weather Service after wrongly being charged with spying for China.

Sherry Chen worked for seven years for the National Weather Service in Ohio between 2007 and 2014. Spy charges against her were eventually dropped by federal prosecutors, but her firing was not rescinded.

Her case has been widely cited by Asian American advocates as a prime example of racial profiling. Such national media organizations as the The New York Times and CBS' 60 Minutes have highlighted the injustices of the case against her.

Chen's discrimination case against the U.S. Department of Commerce will be held March 14-15 in the U.S. Court House in Cincinnati, Ohio.

"In the time-honored American tradition of standing up and speaking out against injustice and discrimination, Ms. Chen is fighting for her equal rights to be treated fairly and justly," said the Committee of 100 in a statement.  "Ms. Chen hopes only to be restored to her job, which she loves. The people of Ohio and America ought not to be deprived of the services and contributions of an intelligent, hardworking, and loyal American."

The U.S. Department of Civil Rights last year called for a federal probe into the racial profile case.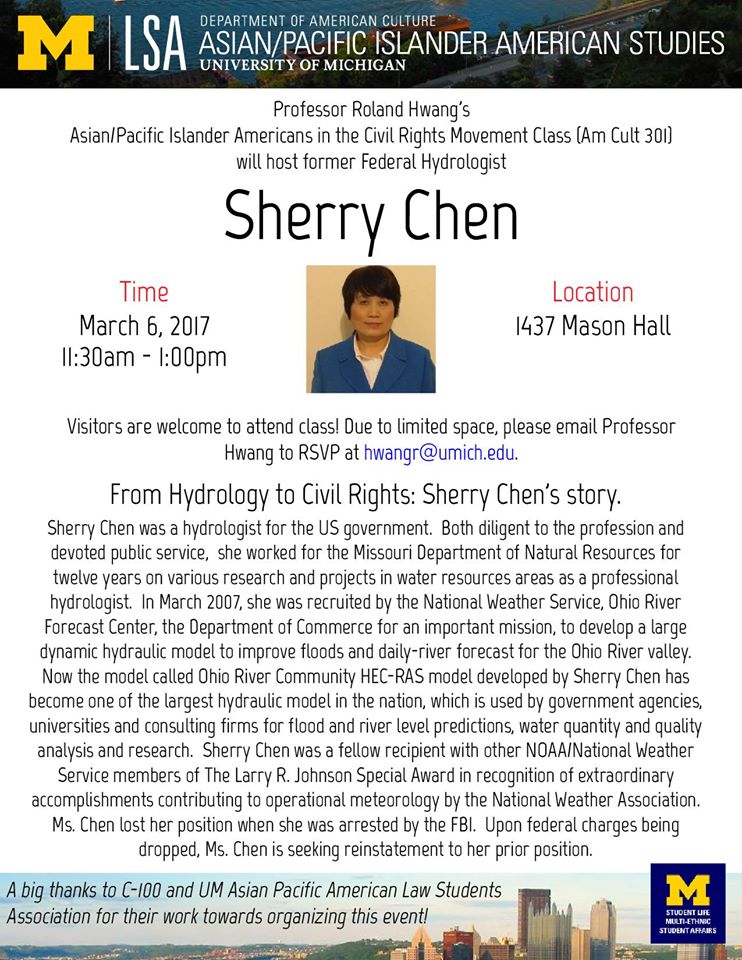 Chen is speaking today about her case at the University of Michigan.

AsAmNews is an all-volunteer effort of dedicated staff and interns. You can show your support by liking our Facebook page at  www.facebook.com/asamnews, following us on Twitter, sharing our stories, interning or joining our staff.