As women are being urged today to mark International Woman's Day by taking part in a one day strike, Asian American women are struggling to make up a 7 to 56 percent wage gap with White men.

A fact sheet released this month by the National Asian Pacific American Women's Forum found a wide disparity in wages and salaries faced by various APIA subgroups.

On average, Asian American Pacific Islander women make 85 cents for every dollar a White man makes. Bhutanese American woman fare the worst, making just 38 cents while Indian American woman, largely due to preferences in our immigration system for highly skilled STEM workers, make 18 percent more than White men.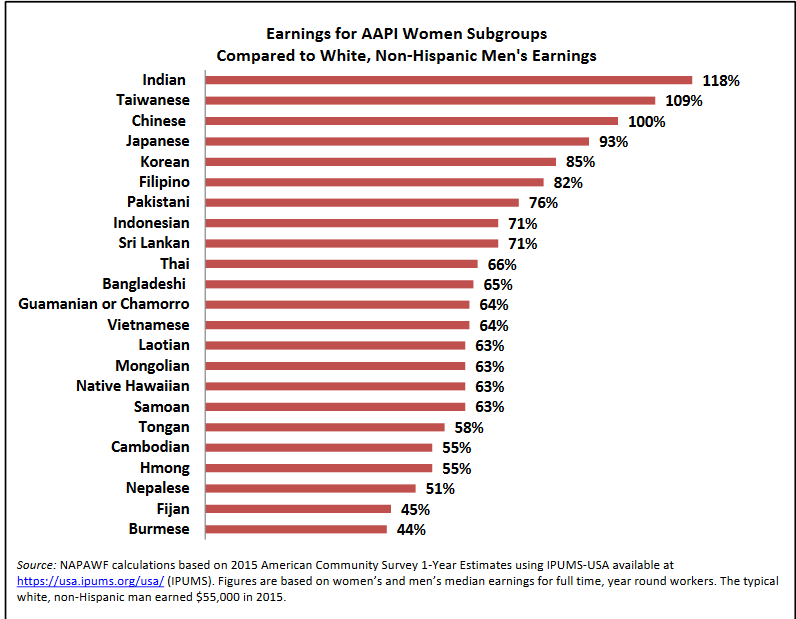 "The pay gap increases for Asian American women even more with age," said NAPAWF. "The National Women's Law Center estimated that Asian American women ages 45-64 years make just 68 cents to each dollar earned by a White man, while working Asian American women 65 years and old make a mere 53 cents."

This wage disparity is reflected in the high poverty rate among APIA women over the age of 65- 16% compared to 5.3% for both White men and Non-Hispanic men and 13.1% for Asian men.

The wage gap between APIA women and men is even greater with Asian women making 81 cents for every dollar an Asian man makes.

AsAmNews is an all-volunteer effort of dedicated staff and interns. You can show your support by liking our Facebook page at  www.facebook.com/asamnews, following us on Twitter, sharing our stories, interning or joining our staff.