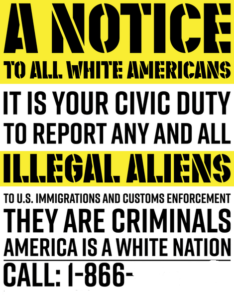 A racist White supremacist organization is continuing its recruitment drive on college campuses from the East to the West Coast.
The Washington Post reports flyers describing America as a "White nation" and calling "illegal aliens" "criminals" were posted this week at the University of Maryland.
The flyers are the same ones seen on Vanguard America's website. We have obscured the group's phone number and website on the poster so that we inadvertently don't assist their recruitment efforts.
The University of Maryland Police Department says it is investigating the distribution of the posters as a hate crime and is reviewing campus video in an attempt to identify the perpetrators.
Similar posters were also found at the University of Texas and Rutgers University.
AsAmNews has Asian America in its heart. We're an all-volunteer effort of dedicated staff and interns. You can show your support by liking our Facebook page at www.facebook.com/asamnews, following us on Twitter, sharing our stories, interning or joining our staff.