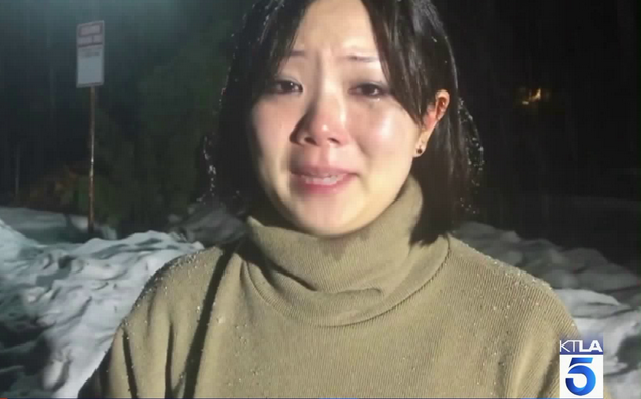 By Louis Chan
AsAmNews National Correspondent
Doubters will be doubters.
I'm likely wasting my time and energy trying to convince those who doubt the story of an Dyne Suh, a Korean American who says she was denied an Airbnb rental because of her race. Suh was told 15 minutes before arriving to the cabin in Big Bear, California that her reservation had been canceled. "I wouldn't rent to you if you were the last person on earth. One word says it all, Asian," the host said via text message to Suh.
As I mentioned in my first story, I too was a doubter.
But there's a difference between healthy skepticism and not paying attention to reason.
A journalist from KTLA was in Big Bear President's Day Weekend when he saw a very despondent Suh and caught her story on video.   Steve Kuzj posted his video on his personal Facebook page last week and the video went vital. As of this morning, it has since generated 3.4 million views, 71,000 shares and more than 18,000 comments.
Some have questioned the likelihood a journalist just happenned to be there when all this happened. I admit it does seem incredulous. But it really did happen.
Here's a link to the story Kuzj did on Suh on KTLA.
The most persistent reason for being a disbeliever is the belief the whole story hasn't been told. Where's the proof, they ask, that the Airbnb host granted permission in advance for Suh to bring two additional guests and her new born puppie.
AsAmNews asked Suh to forward to us the text messages of those conversations and she was glad to oblige.
Here's the conversation that took place about the additional two guests.
Suh is a UCLA Law Student and law clerk with the Riverside County Public Defenders Office. She has credibility. She was also able to provide screen shots of her conversation with the host about bringing her puppy to the cabin. The host was at first reluctant, but after talking with her husband, agreed. You can click on each image to enlarge it.
Hopefully this puts an end to doubts about Suh's story, but likely it will not.
"It is unfortunate how people tend to react when they hear about incidents of racism," said Suh to AsAmNews. "Instead of listening with an open mind and heart, too many people close off into denial. Maybe it's just that people don't want to believe we live in a society where racism still exists, maybe it's a possessive investment in White Supremacy, maybe it's just ignorance as to how racism works and what racism looks like.
"Whatever the cause may be, that act of denying someone else's pain can be as painful to the victim as experiencing the initial act of racial discrimination itself. To refuse to listen to People of Color when we say we have been racially discriminated against is racist in itself, the way it is sexist in itself to refuse to listen to a woman when she says she has been discriminated against because of her gender. We are not going to overcome racism as long as we refuse to listen to its victims and refuse to believe their stories."
AsAmNews is an all-volunteer effort of dedicated staff and interns. You can show your support by liking our Facebook page at  www.facebook.com/asamnews, following us on Twitter, sharing our stories, interning or joining our staff.