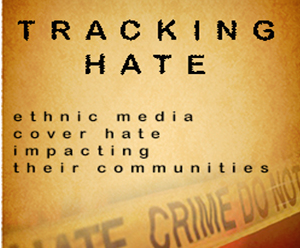 By Louis Chan
AsAmNews National Correspondent
AsAmNews is proud to be part of a joint effort between New America Media and Pro Publica to track the increasing number of hate crimes in the United States.
The Documenting Hate Project is an effort to confirm and verify the rise in hate incidents since the November election.
Readers can help by reporting incidents of hate to the project. Submissions will be entered into a national database that is available for review by independent team of journalists.
"Hate crimes and bias incidents are a national problem, but there's no reliable data on the nature or prevalence of the violence," Andrew Lam of New America Media said to AsAmNews. "NAM and Propublica and an array of other media outlets are collecting and verifying reports to create a national database for use by journalists researchers and civil-rights organizations. Other media groups include The Google News Lab, Univision News, the New York Times Opinion Section, WNYC, BuzzFeed News, First Draft Meedan, The Root, Latino USA, The Advocate and Ushahidi. Civil-rights groups such as the Southern Poverty Law Center, which has its own data base, and schools such as the University of Miami School of Communication are also participating."
NAM says the FBI's Uniform Crime Reporting Program is slow to update and relies on law enforcement which do not all report hate crimes. This effort will hopefully rectify that lapse.
"Ethnic media have long been attuned to hate crime incidents, particularly when members of their own communities are the victims," continued Lam. "Yet they lack resources to do more coverage on this issue. NAM has been working with our ethnic media partners to help expand visibility of their reporting on hate crimes and hate-related incidents. We are hoping more will come on board to participate in tracking hate crimes and focus on this crisis."
NAM is a coalition of 3,000 ethnic media outlets across the country. AsAmNews is part of that network. These media outlets collectively potentially reach over 57 million ethnic adults.
Pro Publica is an independent, nonprofit newsroom that produces investigative journalism in the public interest.
Anyone with information about a hate crime is urged to report it here:
AsAmNews is an all-volunteer effort of dedicated staff and interns. You can show your support by liking our Facebook page at  www.facebook.com/asamnews, following us on Twitter, sharing our stories, interning or joining our staff.