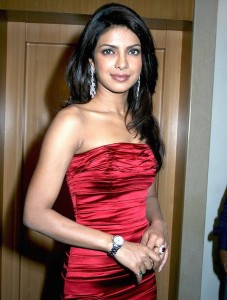 Quantico star Priyanka Chopra has reportedly signed on to the featured role in a biopic film based on the life of Kalpana Chawla, the first Indian American woman to go into space.
Chalwa was among the seven crew members who died aboard the Space Shuttle Columbia explosion in 2003.
India West reports that Chopra's team has been involved in this project for a year. Director Priya Mishra is behind this project and has even met with Chopra's parents about it.
"I was last heading a TV channel creatively and post-2011, quit to pursue filmmaking," Mishra told Mid Day. "This is one of the two scripts that I have written."
Chopra is a mega-star in India and has expanded her name recognition in the U.S. with her own weekly television series on ABC.
"The film will be mounted on an international scale. A new production company, Getway, is likely to produce the biopic," a source told Mid Day.
Chopra recently ended filming on Quantico and will soon be promoting her next film, Baywatch, which will be released in late May.

AsAmNews has Asian America in its heart.  We're an all-volunteer effort of dedicated staff and interns. You can show your support by liking our Facebook page at  www.facebook.com/asamnews, following us on Twitter, sharing our stories, interning or joining our staff.