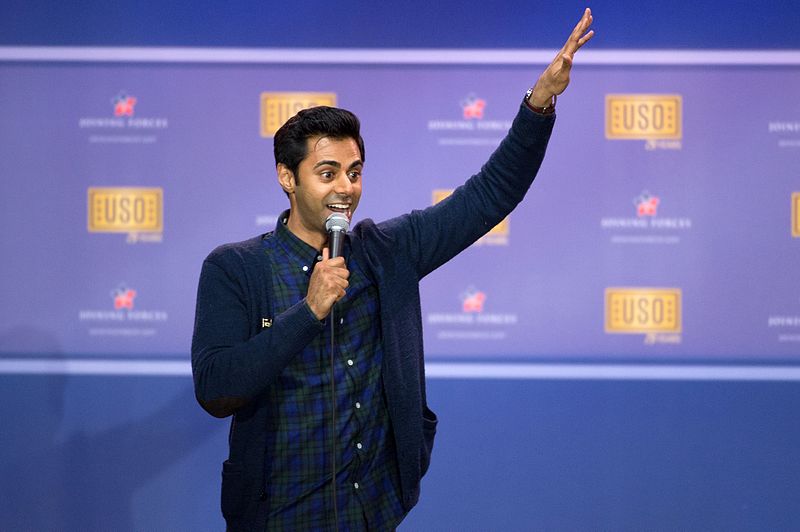 A notable absence at the first White House Correspondents' Association Dinner of Donald Trump's presidency? – The president himself.
The Daily Show correspondent Hasan Minhaj capitalized on this opportunity right as he took the stage, even though Jeff Mason, president of the White House correspondents group, said Minhaj wasn't chosen to "roast the President in absentia," reports CNN.
"Welcome to the series finale of the White House Correspondents' Dinner," Minhaj started. "My name is Hasan Minhaj, or as I'll be known in a few weeks, number 830287."
"I was looking for somebody who is funny and who is entertaining," said Mason. "Because I want the dinner to be entertaining – but who can also speak to the message that the whole dinner is going to speak to … the importance of a free press."
Nicki Minaj bombing at #WHCD. pic.twitter.com/oj9Ydcyj8Q

— Hasan Minhaj (@hasanminhaj) April 30, 2017
"I would say it is an honor to be here but that would be an alternative fact," said Minhaj. "It is not. No one wanted to do this. So of course it lands in the hands of an immigrant. That's how it always goes down."
Minhaj made sure his opinions on the new administration were obvious. He poked fun at Trump's friendly relations with Vladimir Putin. "We gotta address the elephant that's not in the room," he said. "The leader of our country is not here. And that's because he lives in Moscow. It is a very long flight. It'd be hard for Vlad to make it. Vlad can't just make it on a Saturday."
Minhaj has long been a critic of Trump, making it clear through his segments on The Daily Show, reports The Hollywood Reporter. Minhaj has been a correspondent for The Daily Show since 2014.
During his speech, he joked about other serious matters as well, including touching on Trump's military policies in Afghanistan: "Historically, the president usually performs at the correspondents' dinner, but I think I speak for all of us when I say he's done far too much bombing this month."
Trump had announced in February that he would not attend the WHCA dinner, which celebrates the work of journalists and correspondents who cover the White House.
"This event is about celebrating the First Amendment and free speech," said Minhaj. "Free speech is the foundation of an open and liberal democracy from college campuses to the White House. Only in America can a first generation Indian American Muslim kid get on this stage and make fun of the President."
Check out Minhaj's speech at the 2016 Radio and Television Correspondents' Association Dinner, during which he also targeted Trump.
Check out Minhaj on "The Daily Show" as well:
.@hasanminhaj heads to Alabama to investigate their criminal justice reform efforts. https://t.co/cJek2pnrdo pic.twitter.com/HHJOcYpaSe

— The Daily Show (@TheDailyShow) April 26, 2017
AsAmNews has Asian America in its heart. We're an all-volunteer effort of dedicated staff and interns. You can show your support by liking our Facebook page at www.facebook.com/asamnews, following us on Twitter, sharing our stories, interning or joining our staff.