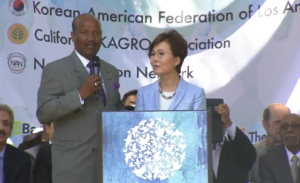 Progress and unity were the themes of a gathering to commemorate the 25th anniversary of the Los Angeles riots.
Black and Korean Americans joined together Saturday at the oldest Black congregation in L.A., the First African Methodist Episcopal Church, to remember and learn the lessons from the past, reported ABC7.
"If the African American community and the Korean community had been communicating in 1992, the pain, agony and anger felt by both communities might have been avoided," Laura Jeon, President of the Korean American Federation of Los Angeles, told the gathering.
It was one of several commemorations held Saturday around the city.
The riots after the acquittal of four Los Angeles Police Officers left 63 people dead in 1992.
"If we don't find a way to work together, it could happen again," Jackie Broxton said to the Los Angeles Times.
Broxton had just left church services when she walked out to the street to chaos and rioting 25 years ago.
"You came out of church with a sense of hope, but you got outside and it was chaos," she said.
At another event organized by the Korean Churches for Community Development, Los Angeles City Council member David Ryu recalled when he and Nathan Redfern, a former Crips gang member, worked together in the days after the riots to bring the two communities together.
"The L.A. riots was not a Black-Korean issue. It was a poverty issue; it was an issue of language barriers. We used to go out together, arm in arm," Ryu said.
Kieja Kim, president of the Victor Valley Korean American Assn, spoke at an event at the AME Church.
"Community relationships are important," said Kim, 60. "We aren't different. Black, Korean, Asian — we're human."

AsAmNews has Asian America in its heart.  We're an all-volunteer effort of dedicated staff and interns. You can show your support by liking our Facebook page at  www.facebook.com/asamnews, following us on Twitter, sharing our stories, interning or joining our staff.