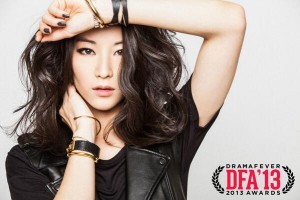 Arden Cho may be a celebrity, but the star of MTV's Teen Wolf still faces self doubt just like the rest of us.
The 5'3″ actress was recording some new music with friends at Boston's Berklee College when she overheard someone say "wow, I thought she'd be taller".
"I literally had one of those moments where I wanted to crawl in a hole and die," said Cho in her personal blog East of Eden. "I actually hear this all the time. Normally I just brush it off, but I was wet, cold, flustered and nervous.
"I should be stronger and tougher but I'm not. The thing is, I hear it all the time. You look so different in real life, you're so much shorter than I thought. Yes, when we film I stand on an apple box all the time because I'm short. Yes, when we take photos, photographers get on the ground and shoot bottom up because I'm short. It's not a secret I'm short. Honestly, I used to hate being short but I don't mind it anymore. I think it's a height that fits me and works for me. What's wrong with being short? Nothing! But I hate how people comment about it as if I'm such a disappointment. It makes me feel like an ugly zoo animal."
It's that sort of honesty that inspired the Taiwanese American Students Club and Pi Alpha Phi at Northwestern University to invite Cho to speak to them.
"Growing up as an Asian, you do feel a little different sometimes," Steven Gu, president of the Taiwanese club told The Daily Northwestern. "She talks about how (when) she goes to Asia, she doesn't really feel Asian. (When) she's here in the U.S., she doesn't really feel American. I think all Asian Americans can kind of connect with that."
Cho spoke to about 150 students Sunday about representation of Asian Americans in Hollywood. She said she does not take roles that play to stereotypes of the "sexy, hot Asian girl" or an "old, white guy's super young Asian wife." Cho also expressed frustrations at the difficulties Asian Americans in Hollywoods face.
"Hollywood always takes shots on no-named actors, always if they're White," Cho said. "How many times have you guys seen a no-named white girl or white guy become famous overnight because they were the lead? They do not take a chance with an Asian actor."
AsAmNews has Asian America in its heart.  We're an all-volunteer effort of dedicated staff and interns. You can show your support by liking our Facebook page at  www.facebook.com/asamnews, following us on Twitter, sharing our stories, interning or joining our staff.