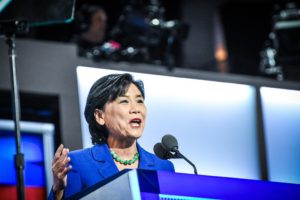 Rep Judy Chu (D-CA), the Chair of the Congressional Asian Pacific American Caucus, is among those leading the charge against the House Republican plan to replace the Affordable Care Act, what the Republicans derisively call Obamacare.
The plan narrowly passed 217-213 Thursday with the GOP proclaiming their first major legislative victory since the Trump presidency. The measure goes to the Senate where Republicans only have a small majority.
"I am incredibly saddened and outraged that Republicans ignored the expressed opposition from doctors, hospitals, patient advocates, health experts and even members of their own party to pass this heartless bill," said Chu. "It is unconscionable to me that they would charge ahead with – and then celebrate – a vote that they know will force millions off their insurance and raise prices for people with preexisting conditions. Worse, their rush to vote on this bill meant there wasn't even time for the Congressional Budget Office to score the fiscal and human costs of the final version. The haste to act and then immediately hop on a bus to the White House shows that they were more concerned with helping Trump keep a campaign promise than with actually improving healthcare."
Chu says a preliminary analysis from the CBO found the current legislation will take away coverage from 24 million over the next decade.
President Trump had a different take.
"What we have is something very, very incredibly well-crafted," Trump said of the bill.
Republican leaders in the house patted themselves on the back for delivering what they promised–to repeal and replace Obamacare. However, this is not final. It's passage remains unclear in the more moderate Senate.
"At the end of the day, I think it'll be a Senate bill and then those two bills at some point will have to come together and we'll get started on that Senate bill immediately," Sen. Roy Blunt, R-Missouri, a member of Senate leadership, told ABC News.

Several Asian American legislators tweeted about the vote.

Trump has now said that both Canada and Australia have better health care. He should be for Medicare for All and work with @BernieSanders.

— Ro Khanna (@RoKhannaUSA) May 5, 2017
Thanks to all who contacted me about #AHCA. Even though I've long opposed it, your messages strengthen my resolve as I keep fighting #voteNO

— Raja Krishnamoorthi (@CongressmanRaja) May 5, 2017
But the most creative tweet of the day may go to Rep. Grace Meng (D-CA)
"Who's more foolish? The fool or the fool who follows him?" Obi-Wan could have been talking about @GOP on #AHCA. #VoteNO #MayThe4th

— Grace Meng (@RepGraceMeng) May 4, 2017
Asian Americans Advancing Justice-Los Angeles, also spoke out against the vote.
"The AHCA turns back the clock on the many gains our communities made under the ACA, which covered millions of consumers who previously had no access to health care because they had pre-existing conditions or could not afford the premiums," says Doreena Wong, health access project director at Asian Americans Advancing Justice – Los Angeles. "There is no doubt that premiums will rise for most people and many who now have coverage through Medi-Cal will become uninsured again. The AHCA is simply a huge tax break for the wealthy, and devastates health coverage for low and middle income Americans."
Polls have shown the majority of Americans support the Affordable Care Act passed seven years ago and oppose the Republican version. Polls have also consistently show Asian Americans overwhelmingly support the current Affordable Care Act.
AsAmNews has Asian America in its heart.  We're an all-volunteer effort of dedicated staff and interns. You can show your support by liking our Facebook page at  www.facebook.com/asamnews, following us on Twitter, sharing our stories, interning or joining our staff.