It took 148 years, but 12,000 Chinese railroad workers who played a huge role in building the Transcontinental Railroad are finally getting their due.
The California state Assembly unanimously passed a resolution by Assembly member Evan Low to proclaim May 10 from this day forward California Chinese Railroad Workers Memorial Day.
Originally known as the Pacific Railroad, the Transcontinental Railroad was completed on May 10, 1869, linking the West and the East for the first time in American history. The construction, one of the most remarkable engineering feats of the 19th century, took six years and stretched as far as 2,000 miles. Chinese laborers contributed to the Western section, the toughest stretch to construct.
"The thousands of Chinese immigrants who risked their lives to build the Transcontinental Railroad faced prejudice, unsafe working conditions and low wages, said Low according to Ecns.cn.  "Their sacrifice and courage must never be forgotten."
Labor contractors working for the project recruited laborers from China, mostly from Guangdong province in South China. Seeking new opportunities and to escape poverty,  Chinese boarded ships for California.
The workers not only faced dangerous working condition, but discrimination as well. Nearly 1,200 Chinese laborers died working on the project.
Despite making up 80 percent of the work force for the Central Pacific Railroad Co,  their role was largely ignored.
"Because much mainstream historical writing omits their (early Chinese immigrants') history, it is imperative that we, descendants of the early Chinese, do not," said Stanford American History professor Gordon Chang, who has been leading a Stanford project to preserve the history of the Chinese railroad workers for the past five years.
The Chinese railroad workers also set a world record by laying 10 miles of railroad track in just one workday.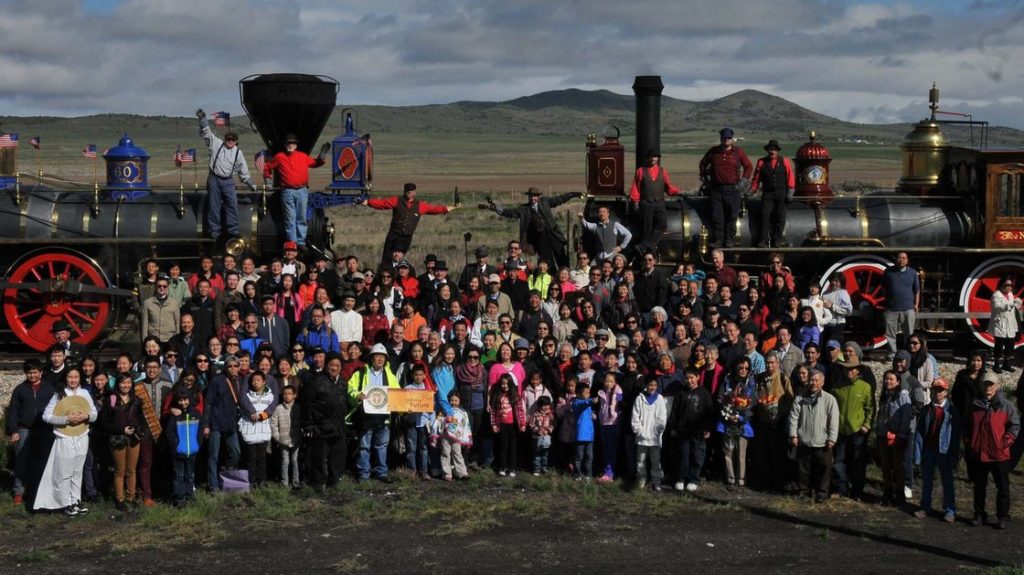 "The Chinese railroad workers' contribution will be remembered by more and more people both in the US and in China," said Chang.
"Through their fight against discrimination, the Chinese railroad workers set an example for the millions of Asian Americans who came to the United States after them," the resolution reads.
"Both the descendants of the workers and the wider Asian American community view the sacrifices of the Chinese railroad workers as being integral to the creation of the vibrant and growing Asian American community that exists throughout the country today," the proclamation says.
Chinese laborers have contributed greatly to the cause of American modernization, said Florence Fang, a renowned community leader in San Francisco. " Their hard work should be remembered, their contribution should be recognized. They are heroes unsung."
AsAmNews has Asian America in its heart.  We're an all-volunteer effort of dedicated staff and interns. You can show your support by liking our Facebook page at  www.facebook.com/asamnews, following us on Twitter, sharing our stories, interning or joining our staff.