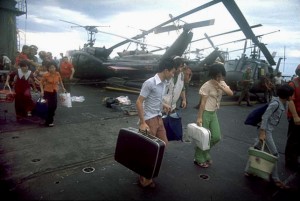 UMass Lowell's Center for Asian American Studies is launching a new digital archive to document the stories of local Southeast Asian American communities since the 1970's.
The center received a grant of $239,000 from the National Endowment for the Humanities and an additional $28,000 from UMass President's Office Creative Economy Initiatives Fund for the project.
"This collection will help preserve the history and stories of the Southeast Asian community, enabling future generations to understand the foundation on which our community thrives," said Linda Sopheap Sou, one of the SEADA community advisers.
The archive will serve as a resource for teachers, students, scholars and community members.
A full time archivist will be hired and many materials will be translated and transcribed.
32 percent of Lowell High is Asian American, with most of those students being Southeast Asian. A significant number of Vietnamese, Laotian and Thai Americans, as well as newer Burmese and Bhutanese refugees, live in the area. In all, 1.2 million Southeast Asians escaped their home countries and have come to the U.S. since the Fall of Saigon in 1975.
Partner organizations include the Cambodian Mutual Assistance Association (CMAA), Angkor Dance, Lao Mutual Family Assistance Association, Saydanar Community Development Center, the Bhutanese Community of Lowell and the Southeast Asian Water Festival. The archive will also incorporate the existing Indochinese Refugee Foundation Archives at the university's Center for Lowell History. It includes documents from the foundation, which helped resettle a massive influx of mostly Cambodian refugees starting in the mid-1980s.

AsAmNews has Asian America in its heart.  We're an all-volunteer effort of dedicated staff and interns. You can show your support by liking our Facebook page at  www.facebook.com/asamnews, following us on Twitter, sharing our stories, interning or joining our staff.