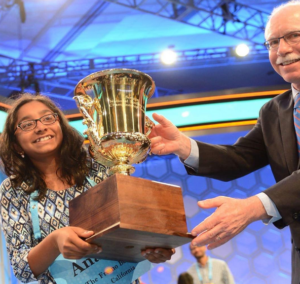 By Brittney Le
AsAmNews Intern
12-year-old Indian American Ananya Vinay spelled the word "marocain" Thursday night to win the 90th Scripps National Spelling Bee in Oxon Hill, Md., reports NPR.
Vinay, a sixth grader from Fresno, Calif., has become the 13th Indian American in a row to win the Scripps National Spelling Bee, reports PTI News. She beat out Indian American Rohan Rajeev to win over $42,000.
What should have been a time for celebration for the young Vinay, as she appeared on CNN following her victory, became a moment of ignorance for anchor Alisyn Camerota.
America's newest spelling champ unable to properly spell President Trump's nonsense word "covfefe" in on-air test https://t.co/z4rEho29jQ

— New Day (@NewDay) June 2, 2017
CNN anchors Camerota and Chris Cuomo asked Vinay to spell "covfefe." There has been recent attention surrounding the nonsense word, which appeared at the end of one of Donald Trump's Tweets – he has since deleted the Tweet and posted the following one:
Who can figure out the true meaning of "covfefe" ??? Enjoy!

— Donald J. Trump (@realDonaldTrump) May 31, 2017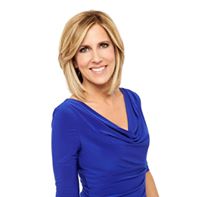 After Vinay misspelled the nonsense word to the anchors, Camerota went on to say the following:
"But it, again, is a nonsense word so we're not sure that its root is actually in Sanskrit which is what you're probably used to using."
While Sanskrit is a root for many Indian languages, it is rarely used nowadays in non-religious and/or non-ceremonial settings. M.K. Ansari of HuffPost writes, "First of all, newsflash to the CNN anchor — nobody really speaks Sanskrit anymore. It's like telling an Italian 'it's not like Latin, that you're probably used to speaking.'"
Cuomo even gave a cringe-filled smile following Camerota's comment, knowing full well that his co-anchor made a mistake, and he quickly tried to change the subject by continuing to congratulate Vinay.
What spurred Camerota to say such a thing other than blatantly racist assumptions? She definitely needs a reality check, along with some lessons on racial sensitivity.
AsAmNews has Asian America in its heart. We're an all-volunteer effort of dedicated staff and interns. You can show your support by liking our Facebook page at www.facebook.com/asamnews, following us on Twitter, sharing our stories, interning or joining our staff.